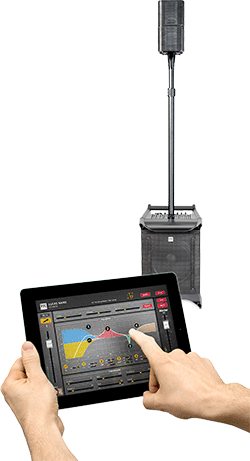 HK Audio has expanded its Lucas Nano family of portable crossover PA systems with the release of Lucas Nano 608i – the first high-end, all-in-one system with an iPad-enabled wireless mixer and Bluetooth technology built in.
The eight-channel digital mixer integrated into Lucas Nano 608i's subwoofer can be controlled either directly on the 608i itself using conventional knobs, or wirelessly via a free dedicated iPad app. Signals are shaped with features such as fully parametric 'drawable' EQs, compressors and high-quality reverb programmes. All adjustments can be made in the more sophisticated Expert Mode or in the intuitive Easy Mode, and then stored at will.
Weighing in at 16.3kg, Lucas Nano 608i is aimed at solo musicians, small groups and entertainers (who can use the app for iPad to mix sound directly from the stage), for monitoring electronic drum kits, home use and for DJs. 'Lucas Nano 608i is hardware and software in perfect harmony,' says Rüdiger Forse, HK Audio Senior Product Manager. 'The app for iPad is so intuitive and valuable for every kind of performer, the way you can watch and touch your mix is going to revolutionise stages across the world.
'Plus, the 608i packs an astonishingly powerful sonic punch, despite its low weight and diminutive dimensions. Thanks to our pioneering Multicell Transformer and Anti-Resonance Bracing technologies, this little giant delivers a rich, thick low-end response and superior top end, meaning Lucas Nano 608i can be used to cover even large rooms with ease. This truly is the next generation of crossover PA...'
More:
www.hkaudio.com