Bose Professional has announced updates to its Panaray 802 and 402 sound reinforcement loudspeakers — now denoted Panaray Series IV models. Other models in the Bose Panaray loudspeaker line remain unchanged.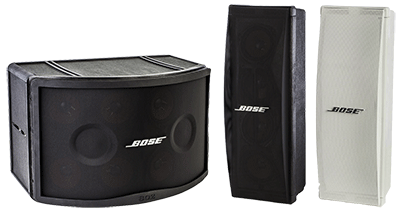 The Series IV models build upon the series' 25-year legacy while retaining key features and performance of their predecessors. Both Series IV models have new installation options to allow simple and versatile mounting, and are better suited to indoor and outdoor installed applications.
All Panaray installed loudspeakers feature full-range driver arrays, eliminating the need for tweeters and crossovers. Additionally, a Bose Articulated Array design – where drivers are set at precise angles to provide wide, even coverage – can reduce the number of loudspeakers required for many installations.
The small, lightweight Panaray 802 Series IV loudspeaker has a 120°V x 100°H Articulated Array design, and 52Hz low-frequency response. The Series IV model adds side threaded inserts and optional accessory U-Bracket. The Panaray 802 Series IV comes in a black finish, measures 338mm x 520mm x 335mm and weighs 13.6kg.
The smaller Panaray 402 Series IV indoor/outdoor speaker features a 120°V x 60°H Bose Articulated Array design and 73Hz low-frequency response. The new model adds rear threaded inserts with industry-standard mounting to accommodate optional pan-and-tilt brackets. It comes in black and white finishes, measures 592mm x 206mm x 202mm and weighs 7.3kg.
The Panaray 802 Series IV loudspeaker is available now, while the Panaray 402 Series IV is scheduled to be available in Q1 2016.
More: www.pro.bose.com