WorxAudio Technologies has further extended its TrueLine family with the XQ10 Extended Bass System.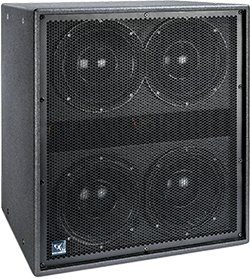 Designed for high SPL and extended low-frequency performance, the XQ10 is intended for use with the TrueLine XQ10-P in multi-way loudspeaker systems, or as an extended bass section in any sound reinforcement setup requiring extended low frequency response. The enclosure is built to truck pack dimensions for efficient transportation of multiple units.
The XQ10 subwoofer is available in both touring and install configurations: XQ10i-P (install – powered), XQ10i-BA (install – biamped), XQ10T-P (touring – powered), XQ10 (passive). The powered versions include WorxAudio's PDA-2000 power amplifier, which is available with Dante and AVB audio networking options, onboard DSP and WorxAudio's AllControl software integration. The PDA-2000A and PDA-2000D are 2kW, four-channel amplifiers (500W/channel 1kW peak) with internal DSP. The PDA-2000A includes the AVB card, while the PDA-2000D incorporates the Dante card. Networking provisions of the PDA-2000D include onboard Ethercon.
The XQ10's transducer complement consists of four direct radiating, 10-inch, 500W cone drivers with 2.5-inch voice coils in a tuned enclosure. This enclosure is made from highly braced, tour-tested, 15-ply Baltic Birch with 18mm thick baffle. The TrueLine XQ10-P has a multi-layered Polyurea finish and is available in black or white. Install versions are also available in a natural wood finish. The loudspeaker system's protective grill is manufactured from 14-gauge (1.0mm) perforated steel with a black, powder-coated finish.
The XQ10 sports two parallel-wired NL4 Neutrik speakOn connectors along with Neutrik powerCON connectors for AC power, plus XLR M/F (In/Out), and either Dante or AVB Networking connectivity. For suspension and mounting purposes, WorxAudio's TrueAim Tour side-plate rigging is available, along with optional array frame accessories.
The WorxAudio TrueLine XQ10 Extended Bass System is available now. Pricing varies by configuration.
More: www.worxaudio.com