JBL Professional has announced the Eon618S, an 18-inch, 1kW, self-powered subwoofer.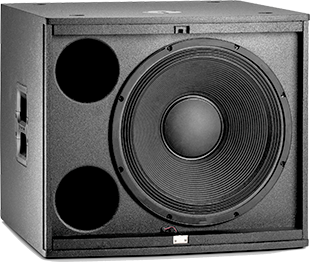 With a large-volume enclosure to support true low-frequency extension, the Eon618S rounds out JBL's Eon600 family and is tuned to perform alongside Eon610, Eon612 and Eon615 full-range systems.
Borrowing design language from other Eon600 systems, the Eon618S's DSP Parameters – including presets for Eon600, Eon200 and other manufacturers' full-range loudspeakers – can be controlled via a Bluetooth app for iOS and Android. Selectable crossover presets are available through the Eon Connect app. Itfeatures a maximum SPL output of 134dB, with a frequency range of 31Hz–150Hz (-10dB), a frequency response of 42.5Hz–150Hz (-3dB), at a weight of 78lb.
With 1kW of highly efficient class-D power, the Eon618S has been designed to maximise cabinet volume while maintaining a highly transportable footprint. Its extremely rugged enclosure features premium handles, a standard M20 threaded pole cup.
Rethinking the standard of performance for an affordable self-contained portable PA system, JBL engineers designed and built the Eon600 Series from the ground up featuring JBL's advanced waveguide technology, JBL-designed and -manufactured transducers and convenient, wireless remote control of its onboard DSP EQ parameters via Bluetooth. This redesign of the Eon platform leverages the latest technologies in cabinet materials, acoustic science, transducer design and user friendliness, claiming high-end studio monitor performance in a fully professional, highly flexible, easy to use and portable system for working musicians and sound providers.

The Eon6168 is sidtributed by Sound Technology in the UK, and is expected in November 2015 priced at £679 RRP ex VAT.
More: www.jblpro.com
More: www.soundtech.co.uk/jbl