British loudspeaker manufacturer EM Acoustics has unveiled several products after establishing a new R&D facility, beginning with the M-C12 and M-C15 coaxial monitor speakers and EPX-8 self-powered loudspeaker.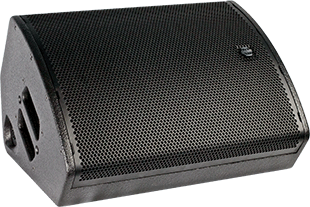 The EPX-8 is an updated and active version of the EMS-81X compact, 8-inch loudspeaker. Featuring EM Acoustics' passive crossover for frequency and phase response, a rotatable horn for flexible dispersion options and a variety of rigging options, the EPX-8 also includes a class-D amplification package with integral stand-alone DSP for true plug-and-play operation. Typical applications range from small FOH duties to front fill and compact stage monitoring.
While the EPX-8 is an extension of an existing line, the M-C12/15 (12- and 15-inch) monitors represent a departure from previous EM Acoustics dedicated wedge monitor designs. However, as Operations Director, Mike Wheeler points out, it's become very clear over the last few years that rental companies and venues need to achieve maximum value from their investment, hence a stage monitor that can also perform equally well either on a stand or flown is of much greater end value to the client.
'To that end, we purposely designed world-class stage monitors that also include hidden pole mounts and flying points for cradles,' he explains. 'Much thought has gone into usability in service, from both a practical as well as aesthetic point of view. We've made great use of our new five-axis CNC machine in our woodwork factory, which enables us to machine more three-dimensional shapes and surfaces than we could before – specifically the large radius curve on the back corner and the sculpted surfaces around the connectors. Every detail has been meticulously thought out, from the material used for the protective skids on the underside, to the thicker-than-usual steel grille and supporting steel braces to protect the front from over-enthusiastic artists on stage. They are designed to be sleek, elegant and discreet.'
Both monitors use a bespoke waveguide designed by EM Acoustics' Ed Kinsella, which was prototyped in house on the company's 3D printing facilities before going into production. The very first delivery has already been made to entertainment and corporate event lighting specialists, White Light, after adding an audio department to its services. White Light took 16 M-C12s and eight M-C15s for rental stock, and a eight M-C12s for a recent audio infrastructure upgrade at Thorpe Park which also included a Halo-C line array system, MSE-218 subs and AD Series amplifiers.
'We're delighted to be up and running in our new facilities after a hiatus in R&D caused by lack of space,' Wheeler says. 'We're not short of designs, but Ed had nowhere to prototype and test them! However, now that he's properly installed in the new R&D facility with all his new toys, he's been able to bring his designs to fruition. The M-C monitors are also the first products to be developed and designed entirely using our own woodwork factory.'
More: www.emacoustics.co.uk