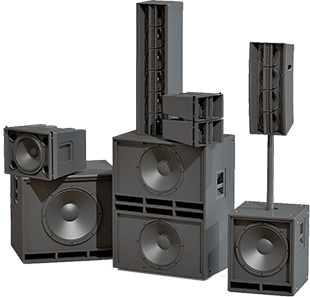 Ambisonic Sound Technologies has announced the STX series of column line array loudspeakers.
The Single-Box Column Line Array Loudspeakers use the company's advanced Planar Magnetic Ribbon Drivers (PMRD) and a high-power 6.5-inch custom, neodymium magnet driven, Kevlar/paper mid-woofer. The coaxial configuration of these drivers along with their waveguide creates 110° horizontal coverage, while the array affords front-to-back audience coverage to within ±2dB. Companion subwoofers, available with 12-, 15- and 18-inch drivers, use massive motor structures and dual-layered voice coils to provide low frequency extension down to 34Hz.
'The STX series is purposely built for installers and integrators to provide a no compromise, cost-effective solution for their clients,' says Chief Technology Office Tom Harrison. 'The speakers offer a small visual footprint as well as pristine audio quality with high output and true line array performance providing increased intelligibility in highly reverberant spaces.'
The STX 6600, 6620, and 4625 Column Line Array models' PMRD claim to be the lowest-mass moving system currently available. Thanks to a highRMS-to-peak ratio and a proprietary manufacturing process that uses a molecular bond between the aluminium and Kapton substrate, the driver is able to generate the high-output levels necessary for larger venues, while retaining accuracy.
The tweeter is complemented by a proprietary mid-woofer design featuring a powerful, yet lightweight neodymium-magnet motor structure. The strength and lightness of the motor yields extremely low distortion in the critical mid-range frequencies that matches with the faithfulness of the ribbon tweeter. Weather-resistant Kevlar/paper cone material generates stiffness and durability with less coloration, while the entire low-mass moving system provides linear performance and high sensitivity.
Low distortion is achieved through the acoustic filter effect of having the tweeter placed in front of the woofer. Aligned using Ambisonic Sound Technologies' Array Optimization Software (AOS) allows minimal sound drop-off through the depth of the listening area (±2dB). Deployed multiple single cabinets can be wired in parallel using only one amplifier channel. Single-cabinet line arrays also produce high output with tightly controlled directivity for high speech intelligibility in highly reverberant environments.
Ambisonic Sound Technologies also offers a line of subwoofers to match and complement the low frequencies of the line array loudspeakers. The dual 12-inch, single and dual 15-inch and single 18-inch subwoofers use massive motor structures for high output, combined with dual-layered, inside/outside voice coils for heat dissipation and reliability. The efficient bass reflex enclosures are braced for maximum output with low distortion.
More: http://ambisonicst.com