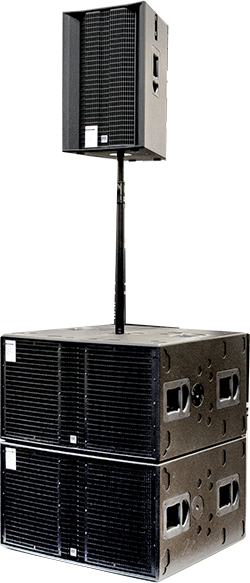 HK Audio has extended its Linear 5 loudspeaker range with the release of the L5 LTS A long-throw satellite and L Sub 4000 A subwoofer, targeting professional hire companies and nightclub installations.
The L5 LTS A pairs an integrated line array with the physical format of a compact point source, allowing the enclosure can be flown or deployed in groundstacks. Although a single satellite achieves the long-throw performance of a conventional compact array, the L5 LTS A's audio characteristics also support acoustically correct head stacks and horizontal clusters, and the two configurations may be combined in a head-stack cluster.
The heart of the L5 LTS A is the Multicell Transformer developed by HK Audio. Its design offers the key benefits of extremely high SPL, minimal distortion in the audible range up to 20kHz, and a +5°/-30 ° curved wavefront similar to that of a full multi-component array.
The L Sub 4000 A provides low-end support for the L5 LTS A, and can serve as a sub-low add-on to the L Sub 2000 A. It can be paired with all Linear 5 full-range and satellite speakers and delivers a dynamic response and high maximum SPL. In addition, the L Sub 4000 A's preamp is stereo, so a single unit can be used as a central sub-low bin for a stereo system.
'Linear 5 has established itself on the global market as a true leader in its class, thanks to its extreme SPL and versatile performance capabilities,' says Alexander Wollenberg, HK Audio Product Manager. 'The new L5 LTS A and L Sub 4000 A set new standards in terms of price versus performance – they represent a genuine step forward for HK Audio and will provide our users all over the world with outstanding sound reinforcement for a vast variety of uses.'
More: http://hkaudio.com