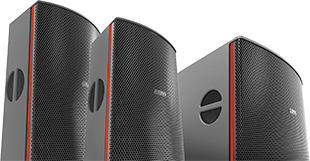 EAW has announced the Redline family of powered loudspeakers for rental, staging and installation customers.
The Redline family comprises the RL12 12-inch and RL15 15-inch active, two-way loudspeakers, and the RL18S 18-inch powered subwoofer. The cabinets contain highly-customised precision transducers with the RL12 and RL15 claiming 'perfectly consistent directivity' via Beamwidth-Matched crossovers on 90° x 60° user-rotatable horns. Four-aperture ports provide bass support without turbulence, while maximising transducer-cooling air flow.
The loudspeakers use 1,25kW of fanless class-D, Power Factor Corrected amplification. EAW Focusing sonic processing delivers the impulse response of a studio monitor with the impact demanded by live sound applications. DynOTM processing optimises the power transfer from amplifiers to transducers to audience, maximizing headroom and sound quality at a high SPL. Three simple user-defined voicing options allow a variety of uses without need of a computer or external processor.
The RL18S subwoofer is cardioid-ready via simple rear-panel controls, allowing end-users to achieve high levels of low-frequency control without need for complex processing or calculations.
'EAW engineers focused on designing a product with a streamlined, robust feature set with no extraneous widgets that can break or get in the way of working professionals,' says EAW President Jeff Rocha. 'They used years of touring product experience – the KF, JF, SB and Adaptive Systems product families – to create a product our customers will find incredibly useful and that will be a solid performer, day in and day out.'
Each Redline enclosure is built from 15mm hardwood with EAW RoadCoat treatment to ensure rugged durability. The enclosures also incorporate symmetrical monitor angles to form left-right wedge pairs and integral road glove-ready wood handles for portability, and are protected by grills made of 18-gauge steel. A magnetic Redline stripe (removable for aesthetically sensitive events) identifies the Redline family.
More:
www.eaw.com