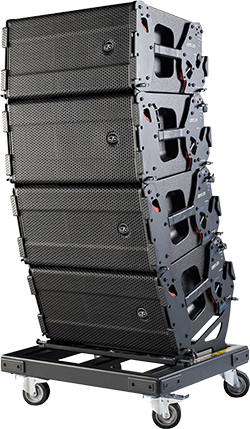 DAS Audio has launched Aero 20A, joining the third generation of Aero line array systems begun with the Aero 40A Advanced Line Array System in 2014. The Aero 20A incorporates DAS´s latest technical achievements in transducer design, power electronics and system management.
The Aero 20A uses the new DAS 2AN4 12-inch loudspeaker driver, with a light aluminium voice coil bonded to a fiberglass reinforced cone, an optimised magnet circuit, and new suspension design. The cabinet's high-frequency response relies on the M-75N compression driver and a new waveguide assembly developed specifically for the Aero 20A. The compression driver employs a neodymium magnet structure, a titanium diaphragm and 75mm (3-inch) voice coil. The assembly is mated to an injected aluminum waveguide'
The Aero 20A is powered by an advanced electronics package comprising a compact class-D amplifier that combines the power supply, output stage and connectors in a single, lightweight chassis. The two channel (800W + 400W) amplifier makes use of the latest in switch mode technology and offers maximum performance, high predictability and immunity from intermodulation artifacts thanks to the innovative design of the Pulse Width Modulation controller. The Aero 20A also incorporates brick-wall FIR filters to provide a smooth crossover point. Top-of-the-line AD/DA converters have been employed allowing for significant improvements in dynamics, low distortion and ultra-low noise levels.
The Aero 20A is DASnet capable, allowing remote monitoring and control by way of DASnet, the audio management application for DAS powered cabinets and processors. Based on the RS485 protocol, DASnet gives instant monitoring of system status, as well as remote control of up to 256 devices.
The box is constructed of birch plywood and finished with the Iso-flex coating, offering protection and durability. Two individual aluminum assemblies comprising the high-frequency waveguide, and a carrier for the 12-inch woofer are attached to the front of the cabinet. An aluminum heat sink housing the amplifier and related electronics is attached to the rear of the cabinet.
A new captive rigging mechanism has been designed to provide enhanced ease-of-use, allowing angle selection to be made while stacked on the transport dolly. A locking system can be triggered to secure angles between adjacent enclosures during the stacking and lifting procedures. Safe rigging and precise aiming is achieved thanks to the AX rigging system and the low-profile fly-bar that reduces the space needed between the upper rigging point and the top of the array.
More: www.dasaudio.com