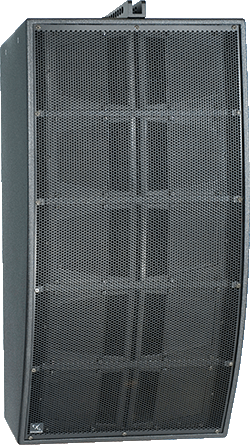 WorxAudio Technologies is to incorporate PreSonus Active Integration technology and the PreSonus SL-Dante-SPK card into its TrueLine X2i-P/D, X3i-P/D and X5i-P/D line array systems, and X115i-P/D and X118i-P/D subwoofers. The TrueLine X2i-P/D, X3i-P/D, and X5i-P/D will be the first line arrays to offer Audinate's Dante technology with PreSonus Active Integration.
All Active Integration loudspeakers feature a CPU that enables advanced functions and come with a USB Wi-Fi LAN module to connect to SL Room Control software over a wireless network. SL Room Control is a system-configuration application for Mac OS-X, Windows and iPad that provides both individual and grouped speaker control and includes graphic and parametric EQ, notch filters, compressor, limiter, muting, soloing, and level control, in addition to performance monitoring (over temperature, click detection, and excursions). Editing features include high- and low-pass filters with customisable filter selection, and an eight-band parametric EQ with per-band filter selection.
The SL-Dante-SPK card houses a single Ethercon connection for Dante networking and control, providing audio networking capability without sacrificing remote-control capabilities. This technology has extensible uses in integrating small and large audio networks.
The WorxAudio X2i-P/D is a self-powered, two-way ultra-compact line array system that incorporates two modules, each of which has a medium format, 1-inch-exit compression driver paired with dual, 8-inch, cone transducers for a frequency range of 45Hz to 20kHz (-10 dB). Similar to the X2i-P/D, the X3i-P/D is a three-module, all-in-one, compact system with extremely broad-160° horizontal dispersion.
The X5i-P/D is a two-way, ultra-compact line array incorporating five modules in a single enclosure for a total of five 1-inch-exit compression drivers and ten 8-inch cone transducers for LF.
The X115i-P/D subwoofer uses a single direct radiating, 15-inch, 1.2kW cone driver in a vented enclosure. The X118i-P/D uses a direct radiating 18-inch, 2kW cone driver in a tuned enclosure. These designs offer maximum output with minimal distortion and a uniform, extended low-frequency response.
'Our Dante-equipped enclosures bring a wealth of functionality to today's audio professional,' says Hugh Sarvis, MD of the PreSonus/WorxAudio loudspeaker division. 'Dante's digital audio networking technology enables the audio engineer to use a single Cat5 cable for both audio and data. Not only does this streamline system cabling, it also improves audio quality. Since audio and data are both in the digital domain, they are not subject to the signal degradation, interference, and other audible anomalies commonly encountered in long cable runs. This advancement in technology marks a dramatic step forward for both touring and installed sound professionals.'
More: www.worxaudio.com