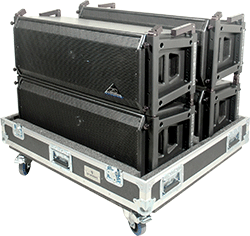 Grund Audio Design has updated its Gala Series GA-2021 line array elements with revised flyware and a new transport case. The flyware revisions offer greater angles of deployment, covering a 1°-10° facilitating greater variety in the line array curves available.
The GA-2021 has a new pin storage arrangement and the enclosures have a new exterior finish. Pin storage is now located on the front of the enclosure for fast access when rigging the system, while the low-lustre polyurethane finish is less visually distracting to an audience.
Set-up and tear down is also faster and easier using model T8-AS4GADGA2021-C flightcase. This heavy-duty touring case carries four GA-2021 enclosures arranged in two groups of two. During set-up, the case makes it easy to take the first two elements, stack them on top of the other two enclosures, and hoist four boxes.
'The increased number of angles that we've made available to our GA-2021 enclosures enables the line arrays to be flown with a greater range of curvature,' says Grund Audio Design President, Frank Grund. 'The fact that pin storage has been moved to the front makes for fast, easy access during rigging and we've been careful to ensure full compatibility between existing enclosures and the new ones.'
The revised Gala Series GA-2021 line array enclosures and the T8-AS4GADGA2021-C flightcases are available now at US$3,679. MSRP for the model and US1,599.95 respectively.
More: www.grundaudio.com