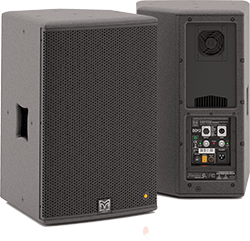 Martin Audio has released the multi-purpose DD12 powered, two-way loudspeaker system, combining onboard networking, DSP and class-D amplification.
Using proprietary Differential Dispersion technology, the DD12 aims to deliver more consistent audience coverage than systems using X° x Y° horns, providing more throw to the rear to distribute sound evenly front-to-back, while having wider close-up horizontal coverage for the front rows.
The system is designed to meet a variety of standalone and distributed sound reinforcement requirements, from touring, theatre and portable live sound applications to concert hall and HOW installations, A/V events and stage monitoring. Able to serve as main PA in small-to-medium size rooms, it can also be used as an infill loudspeaker in large-scale systems. Whether configured as an element in a stand-alone DD12 system or part of a larger MLA/MLA Compact system, individual DD12s can be controlled and monitored from a laptop or wireless tablet PC via Martin Audio's VU-Net software. PC connection can be made directly via USB, or via Martin Audio's proprietary U-Net network and Merlin loudspeaker and network management system.
A further feature of the DD12 is its internal memory, which allows factory plug-and-play or user-generated DSP preset snapshots to be recalled by means of a preset selector button on the rear panel, instead of using computer control.
In addition, accessories support a wide variety of mounting options – including surface, ceiling and pole mount. The DD12's universal bracket facilitates a wide range of down-tilt and up-tilt angles in both portrait and landscape orientation, and can be mounted directly onto the pole of a speaker stand or attached to a scaffold clamp.
'This market sector has been underserved from a technology and innovation point of view for far too long. DD12 will signal a true shift in fidelity, output capability and coverage and bring our Differential Dispersion horn technology to, quite literally, a wider audience,' says Martin Audio R&D Director, Jason Baird.
Key features:
· Multi-purpose, bi-amplified, powered two-way system
· Compact, multi-angle, polyurethane-coated plywood enclosure with screw-free perforated steel grille
· User rotatable Differential Dispersion horn
· Onboard network, DSP and class-D amplification
· Switched mode power supply with PFC (Power Factor Correction) and global mains operation
· Wide range of vertical and horizontal deployment options
· Integral pole mount and M8 rigging inserts
More: www.martin-audio.com