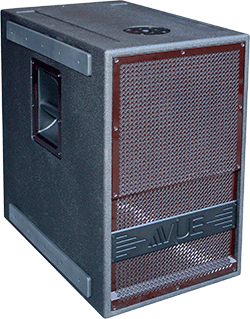 Vue Audiotechnik has announced the hs-20 subwoofer with Active Compliance Management (ACM) technology.
Developed for the hs-28 and hs-25 systems, ACM technology combines a hybrid transducer alignment with onboard electronics to deliver more output and low frequency impact than more conventional vented designs, while minimising overall enclosure dimensions.
The hs-20 places a pair of custom high-powered, long-excursion 10-inch transducers into the ACM alignment, to be driven by ACM-optimized DSP and dual-channel, high-efficiency amplifiers capable of maximum output without cooling fans. The net result is a highly advanced, fully integrated electro-acoustic subwoofer ecosystem capable of delivering massive amounts of clean low-end energy from a deceptively small footprint.
The hs-20 ships with SystemVue networking as standard, allowing connection of one or multiple h-Class systems via wired or wireless Ethernet to a Windows or Macintosh computer. Once connected, SystemVue Software provides access to a selection of network and device-level control and monitoring functions.
The hs-20's drivers and electronics are housed in a birch plywood enclosure with an integrated pole-mount.
Key features:
· Active Compliance Management (ACM) technology
· Dual-channel, high-efficiency 500W amplifiers
· Dual 10-inch, long-excursion woofers with dual layer, inside/outside wound 64mm voice coils
· Integrated DSP with SystemVue network control and monitoring
'The hs-20 clearly shows that the performance advantages of ACM technology actually increase as the physical size of the enclosure decreases.' says Vue Audiotechnik, CEO Ken Berger. 'While both the hs-28 and hs-25 easily outpace any subwoofer near their size, listening to the hs-20 while looking at its compact frame clearly demonstrates the ability of ACM to dramatically change the performance benchmark for compact subwoofers from this point forward.'

See also
Vue Audiotechnik h-8
More: www.vueaudio.com