Funktion-One showed the most recent version of its Dance Stack as configured for the Beatport installation at Club Beta in Colorado at the recent Plasa show.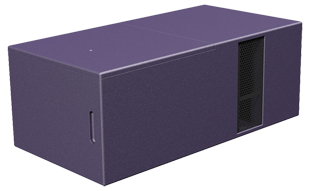 'We receive so many positive emails from people visiting Beta that we decided to give our demo room attendees a treat,' says Ann Andrews.
The configuration was used F221, two DS15 and a DS210, taking advantage of the recently introduced 21-inch bass driver's ability to reproduce both high and low bass frequencies – which means it covers the same bass range as the original combination of infrabass218 and the F218, thus simplifying the system.
The MB210 LP (pictured) is one of Funktion One's most compact bass enclosures, and works well with the F81 and F101 loudspeakers in applications such as bars, restaurants and recording studios. It contains two 10-inch neodymium loudspeakers driving a ported resonant chamber enclosure handling 600W, and averaging 104dB sensitivity between 60Hz and 160Hz. There is also a self powered version available (MB210 LPA) which solves the issue of a mono-sum, crossover and amplification set up. A self powered version of the MB112 single 12-inch bass was also introduced.
More: www.funktion-one.com