JBL Professional has made 'a cost-effective addition' to its Precision Directivity Series with the PD6000 Series, targeting midsize to large venues requiring high pattern control and high output, through either individual or arrayed systems.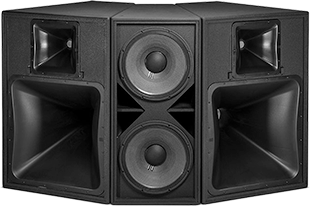 The PD6000 models complement the larger PD700 mid-high systems with more compact size and greater affordability, while the PD6000's higher SPL capability and larger waveguides supplement the mid-size and compact AE Series systems. The PD6000 Series is intended for stadiums, arenas, performing arts facilities, live theaters, auditoriums, houses of worship and dance clubs.
The PD6000 Series comprises 14 models, including four three-way full-range systems, four 12-inch two-way systems, four two-way mid-high systems and two low-frequency models. Coverage patterns include the original 40° x 30°, 60° x 40°, and 90° x 50°. With the introduction of the PD6000 Series, an additional coverage pattern of 60° x 60° is now available.
New to the PD Series are injection-molded rotatable waveguides, which allow a more cost-effective loudspeaker lineup. The mid-frequency 24 x 24-inch PT (Progressive Transition) waveguides provide high pattern control with low distortion. This is also the case with the 12 x 12-inch high-frequency PT waveguides. These rotatable waveguides provide the system designer the flexibility to use PD6000 models in either horizontal or vertical orientations.
In addition to the injection-molded waveguides and the new 60° x 60° coverage pattern, all compression drivers were upgraded to include JBL's newest driver technologies, including the 2432H and 2453H. The PD6000 Series uses the CMCD-82H Cone Midrange Compression Driver (CMCD). The CMCD-82H features JBL's Differential Drive technology. All low-frequency drivers feature JBL VGC Vented Gap Cooling technology.
All PD6000 systems are voiced similarly to JBL's PD700 and AE Series loudspeakers for commonality of sound character throughout an installation. All models are available in white (-WH) as well as WRC and WRX weather-resistant versions for installation in moderate to extreme outdoor environments.
More: www.jbpro.com