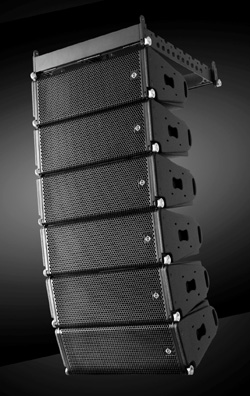 Coda Audio has unveiled its ViRay loudspeaker system for touring and fixed installation applications. With a maximum hang of 24 cabinets, ViRay can be used as single units as well as in multiple arrays, allowing use FOH or as a side/infill system.
ViRay incorporates Coda's proprietary DDP Dual Diaphragm Planar-wave-driver Technology, a double diaphragm transducer claiming 'dramatically improved' dynamic response, clarity and transparency'. The design balances two 8-inch neodymium ultra low-distortion cone drivers for the LF section, featuring high flux linear motors with triple demodulation rings.
All ViRay drivers are loaded to a common ViCoupler, which combines the energy produced from all transducers to perform as a single source without phase destruction, thus achieving a coherent and uniform wavefront. ViCoupler determines the horizontal on-axis and off-axis frequency response.
The ViCoupler technology integrates three main functions – it serves as a waveguide for the mid/high planar wave driver, provides a large plane screen panel to avoid rearward reflections, and serves as a phase plug for the 8-inch drivers for optimised loading
ViRay also features a user-selectable horizontal dispersion pattern of 120°/80° or asymmetrical 100° (60°+ 40°) or (40°+ 60°). This allows accurate coverage and reduces unwanted reflections. Vertical coverage is array dependent from 0°-10° in 1° steps. The system design increased ground-stack configuration options, as well as flown arrays.
ViRay has a frequency response of 55Hz-22kHz and, for extended bass response, is complemented by the optional SCV-F, which uses Coda Audio's Sensor Control technology to turn the two elements into a unified system. SCV-F may be used in omni or cardioid configurations, and can be flown in curved arrays. It can also be used with Coda Audio's RC Power/DSP management racks, as a complete system, and can operate in passive or bi-amplified configurations, with six ViRay elements run from one amplifier channel in passive mode and maximum engineer control available in bi-amp mode.
The integrated rigging system allows quick and easy flying or ground stacking. Arrays may be built straight or curved to obtain the desired vertical coverage. Coda Ease Focus simulation software allows calculating the perfect curving setup for every application.
The ViRay multiplex enclosure is finished with a Polyurea coating for durability and water protection. Its accessory suite includes flybars and dollies (which allow cabinet angles to be set before use and transported without change), weather resistant protection covers and flightcases.
'ViRay incorporates a complete suite of new components and creative designs that have been brought together to produce something very special,' says Coda's Mick Anderson. 'It is the result of a perfect combination of technical innovation, excellence and real-world experience, which we believe have produced a system of such high quality and flexibility that it will be used in all kinds of venues, from the smallest clubs, through theatres and houses of worship, through to major arenas and concert halls.'
More: www.codaaudio.com