Previewed in at the Frankfurt ProLight & Sound 2012, Nexo is readying to ship its STM flagship system, along with the S118 sub-bass cabinet first shown at London's Plasa Show. The STM Series is Nexo's take on modern touring and rental requirements, and combines Nexo Alpha functionality with Geo waveguide designs.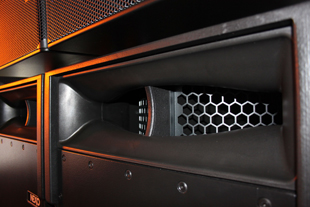 The STM (Scale Through Modularity) system is supplied road-ready, paired with the NUAR to will feed up to 12 STM modules in any combination in groups of three.
The Nexo Universal Amp Rack (NUAR) contains two NXAmp4x4 amplifiers, a new Digital Patch Unit (DPU), an intelligent output patch panel, a new Digital Meter Unit (DMU), an intelligent input patch panel providing digital communication with the NXAmp, and an optional network card, Dante or EtherSound by request. The NXAmp digital processors and amplifiers are now available in a dual-voltage version for touring applications.
An STM system can be configured from discrete loudspeaker elements – the M46 main, B112 bass and S118 sub-bass. System configurations might comprise arrays of main cabinets only, or main/bass, or bass/main/bass. According to Nexo, the ability to add extra bass cabinets to the system in order to increase power and headroom without introducing phase anomalies makes STM the first system to offer scalable LF. Using dedicated STM sub-bass cabinets, either in the arrays or as ground-stacks, increases options.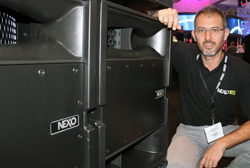 'The modularity of STM makes it truly all-purpose,' says Nexo Concert Sound Specialist, Stuart Kerrison. 'A rental provider can scale up his system from just six cabinets per side for a small event, to whatever is needed to handle an arena or stadium application. Even large flown arrays of main/bass/sub are so low-profile that they comply with sightline restrictions for broadcast concerts and events.'
A first for Nexo, the main and bass cabinets are injection-moulded for maximum durability and weather-resistance. Technical Director Francois Deffarges is proud of the system's bass and sub bass provision, this being one of Nexo's traditional strengths. 'Our extremely powerful Bass cabinet has a frequency response which overlaps that of the Sub and Main modules, providing a valuable increase in LF headroom. With the Sub, we can achieve a similar SPL output to our CD18 unit, using just one 18-inch driver. And there are advantages in use; two subs can be used back-to-back in cardioid mode, or side-by-side in omnidirectional mode.'
Specified by real-world users, the STM system has been designed for the warehouse, the truck, the roadie and the venue. It is as much about how it packs together for transport as it is about how it sounds; using a range of dolly and bumper accessories, the system can be prepped in the warehouse, loaded onto dollies for transport, and simply wheeled into a venue. All aspects of a sound system's use have been re-engineered, and its PistonRig and REDLock rigging technology will allow a single technician to fly an arena system.
More: www.nexo.fr