EAW has introduced the SUB.two – the first subwoofer system in its Avalon by EAW line of danceclub loudspeaker systems.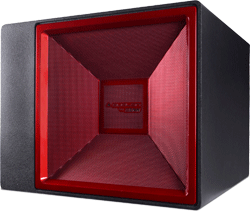 The manufacturer claims the new loudspeaker 'represents a completely new technology platform for the subwoofer genre in a generation'. Calling it Hybrid Subwoofer Technology, the design combines dual 12-inch bass horn-loaded and single 21-inch direct radiating cone drivers to give a response down to 20Hz.
'Like every product in the Avalon by EAW line, SUB.two is a radical departure from existing systems, and will totally transform the discussion of what a subwoofer can be,' says EAW President, Jeff Rocha.
The Avalon by EAW line was co-designed by dance club designer/owner John Lyons, whose Avalon Hollywood club is a favourite performance venue for world-class DJs. Lyons worked with EAW in the late 1990s to produce the original line of Avalon loudspeakers, which sold worldwide. Lyons then initiated the renewal of the line in 2011, and has played an active role throughout.
According to the company, Lyons demands an extraordinarily high level of performance from loudspeaker systems, repeatedly asking for revisions and improvements. 'Working with John Lyons takes us to a new level,' says Rocha, 'He's never satisfied and always tries to take that next step. It puts our ingenuity to the test, but when we dig down for that "something extra", it's always there.'
More: www.eaw.com