The EM Acoustics MSE Series of touring loudspeakers has been expanded with the addition of the MSE-156 and MSE-159 – two-way, medium-format models using EM's latest crossover topologies and drive unit technology. These are intended for FoH in small to medium-sized venues or as fill loudspeakers for larger systems. Applications include live sound reinforcement, theatre and corporate events, houses of worship, and nightclub/dance venues.
MSE-156 and MSE-159 are identical except for their dispersion patterns, which are 60° x 40° and 90° x 60° respectively. These two-way passive loudspeakers use a 4-inch voice coil, 15-inch (381mm) neodymium LF transducer, an internal passive crossover and a 4-inch diaphragm, 1.4-inch exit neodymium HF transducer. This drive unit loads onto a rotatable constant-coverage horn, which yields consistent response throughout its operating band as well as strong attenuation outside of its coverage pattern.
The drive units are housed in a rugged, compact, vented enclosure. Integrated multi-use rigging plates enable suspension swiftly and safely in a variety of ways. The primary rigging system uses keyhole plates and ball-lock pins to allow attachment or removal of hardware in seconds. A 35mm pole-mount socket is located on the underside for stand mounting. The enclosure also includes two heavy-duty steel bar handles, and a pair of Neutrik Speakon connectors for input and enclosure link.
A hex-punched grille backed with acoustically transparent foam protects the drive units from damage. This can be quickly removed to rotate the HF waveguide if required. Both loudspeakers are available as self-powered versions – the MSE-156SP and MSE-159SP – incorporating a class-D amplification and DSP package.
MSE-218 subwoofer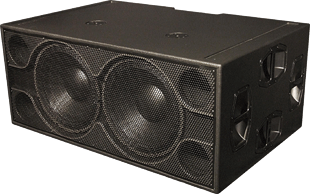 A further addition to the range is the MSE-218 high-power subwoofer.
The enclosure houses a pair of reflex-loaded 4.5-inch voice coil, 18-inch (457mm) neodymium LF cone drive units. -to-peak linear cone travel is 28mm, meaning large amounts of low=frequency information can be produced from a single enclosure.
The onboard control and electronics package of the MSE-218SP self-powered version comprises two 2.4kW monobloc amplifier modules. Each module feeds a single drive unit, giving it claim to being the highest power density of any self-powered dual 18-inch device. The MSE-218SP is supplied with a range of preset programmes, including a cardioid function which allows users to create directional low-frequency information from an array of three MSE-218SP subwoofers, while feeding the same signal into each.
The enclosure is constructed from 18mm multi-laminate Birch plywood – rebated, screwed and glued together. Runners are provided on the bottom of the enclosure to protect the paint finish when in use, and recesses on the top allow stable stacking of arrays. Two M20 threaded flange adapters allow use of full-range enclosures mounted on distance poles. Eight steel bar handles and tour-grade castors are also fitted as standard. A tough hex-punched grille protects the drive units from damage.
More: www.emacoustics.co.uk