The latest version of the compact VLA line array system has been launched by Outline –exceeding all expectations of interest in just a few days.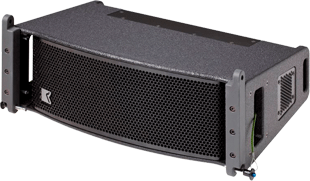 The Flero-based manufacturer claims that credit is due in part to the performance/price ratio, and also to the plug-and-play package offered – eight Eidos 265 LA/two Flysub 15/two T5-DSP amplifiers for medium and small rental firms.
'This system's field of application ranges from live work to permanent installations,' says Designer, Francesco Simeoni. 'It's extremely easily handled for transport from one venue to another and equally simple to install in a theatre or conference room, but above all, thanks to its factory presets, can be up and running loud and clear in a few minutes, without any additional work.'
Outline describes the new system as a 'little big' array – the Eidos 265 LA uses two 6.5-inch loudspeakers and a compression driver with a 2.5-inch diaphragm (1.41-inch throat) loaded with a (100° horizontal dispersion) waveguide. The package has a dedicated subwoofer (Flysub 15 - with a long-excursion 15-inch woofer), and uses the same rigging hardware, perfect for both flying and stacked applications.
'The only aspect that distinguishes it from its big brothers, such as the Mantas and Butterfly for example, is the size of audience it's able to cover, in relation to its maximum SPL, which is among the highest – we're proud to say – even when compared with key competitors equipped with larger diameter transducers,' Simeoni adds.
The rigging hardware for flying the Eidos 265 LA, as well as that for the Flysub 15, is uses a special aluminium alloy and a series of treatments to ensure the structure superlative hardness (500 HV). Outline explains that this latter factor is decisive for contributing to maintaining efficient operation as well as excellent resistance to stress, corrosion and abrasion through time. In fact, the system accommodates up to 16 cabinets in a vertical line array, or set-ups including Flysub 15 subwoofers (for example: two Flysub 15 and eight Eidos 265 LA).
However, the dispersion characteristics of the Eidos 265 LA also enable a few elements to be used with wide splay angles (up to 10° between elements).
For filtering the signals fed to the LF and HF sections, Eidos 265 LA has an on-board passive crossover manufactured with top grade components (coils with very low resistance and metallised polypropylene capacitors). Further processing is done by the DSP in Outline's T5 power amplifier to optimise electro-acoustic performance and ensure ample safety margins for the reliability of the system.
See also:
Outline Subwoofers
More: www.outline.it