Breaking new ground for the company, EM Acoustics has released a line of active sound reinforcement loudspeakers.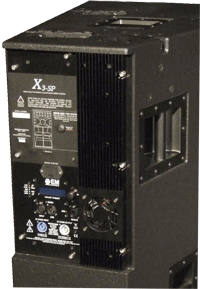 Denoted by the suffix 'SP', this includes X3-SP, X3-DFSP downfill, MSE-218SP, MSE-156SP and MSE-159SP. Self-powered versions of existing speakers, these all use the same amplifier and DSP package, keeping techniques consistent across the range.
'Where many manufacturers would remove the passive circuitry within a self-powered product, our philosophy has always been that the passive crossover is an integral part of the loudspeaker,' says Operations Director, Mike Wheeler. 'Therefore, a monobloc amplifier is used for any product containing a passive crossover, [the MSE-159 is the first of this type], keeping the passive circuitry. In this way, DSP processing is kept to a minimum and sonic performance between passive and powered versions is maintained as closely as possible."
EM Acoustics has opted for high-efficiency, low-weight Class-D amplifier technology throughout.
UMAC class-D amplifier technology from EM Acoustics' amplification partner, Pascal A/S, uses oversized heat-sinks combined with temperature-controlled low-speed fans keep the running amplifier cool and quiet, even under demanding conditions. Power factor correction circuitry ensures universal mains voltage operation, eliminating the need for market-specific products and related reliability issues.
The SP line uses the same DSP card that handles high and low-pass filtering for the company's MES-218SP, X3-SP and X3-DFSP ,as well as dynamic limiting and compression functions to protect the loudspeaker in extreme conditions. Cabinets are also equipped with a user-selectable analogue or AES/EBU digital input – selection is via the rear panel display, which also allows input delays to be added for system alignment. PC-based control software enables custom DSP presets to be created as required, while retaining the original factory settings. A Neutrik Ethercon socket on the rear panel allows remote monitoring and control via Cat5e Ethernet.
'We've managed to develop extremely high-class products in a time frame that frankly defies belief, while remaining true to our values and our philosophy that passive technology continues to deliver better results,' Wheeler says. 'We believe that we've managed to combine the two for outstanding results.'
More: www.emacoustics.co.uk