The Quest Engineering HPI-5 is a compact, passive sound reinforcement loudspeaker, suited to applications that require an ultra low-profile solution that is able to deliver medium to high output – particularly short/medium throw installations.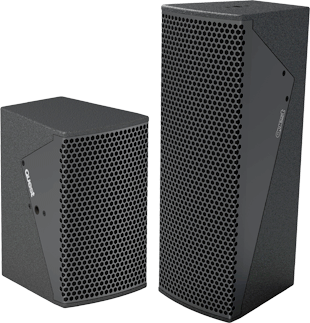 The HPI-5 is optimised for high vocal range intelligibility as a small PA system, and can be used as a fill/delay loudspeaker in larger systems. A full-range system can be created with the addition of a subwoofer, such as the Quest Engineering HPI-12S.
The HPI-5 uses a 5-inch woofer of low-frequency reproduction. Its high-frequency component includes a proprietary 1-inch horn driver matched to a custom designed symmetrical wide dispersion constantdirectivity high-frequency horn. The sound signature of the HPI-5 has been created in line with the range of Quest HPI systems eliminating the need for extensive correction or a dedicated system processor.
To extend the possibilities of the HPI-5, the HPI-25 is a double 5-inch version of thes ystem, offering boasts higher SPL and an extended frequency range.
The HPI-25 also has the unique feature of interchangeable transducer positioning, making it possible to relocate the HF driver to baffle centre or at either end for optimum HF coverage. The HF horn can also be rotated for horizontal dispersion. The low-profile cabinet design coupled with the close fitting installation bracket allows for minimum sightline obstruction when the HPI-25 is used as an under balcony delay or stage fill speaker.
The HPI-25 is an excellent and practical high fidelity solution for theatre and architecturally sensitive venues where mid power short to mid throw voice or music is required.
HPI-5 Specifications:
· Rec Amplifier 240W-360W nominal.
· Impedance 16Ω.
· Frequency response 75Hz-19kHz.
· Max SPL 117dB.
· Directivity 100° x 60° [hor x ver].
· Woofer 5-inch.
· Tweeter 1-inch Ferrite Compression Driver.
· Dimensions 248mm x 182mm x 150mm
· Weight 6.2kg net
HPI-25 Specifications:
· Rec Amplifier 240W-360W nominal.
· Impedance 8Ω.
· Frequency response 60Hz-19kHz
· Max SPL 118dB.
· Directivity Rotatable 100° x 60° [hor x ver]
· Woofer 2x 5-inch.
· Tweeter 1-inch Ferrite Compression Driver
· Dimensions 432mm x 182mm x 150mm
More: www.questaudio.net