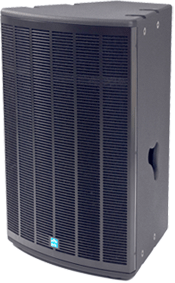 The KME QF 5045 Hybrid Array element is designed to provide high SPL and defined dispersion in a compact footprint, using a combination of line source and point source loudspeaker technologies.
The high-frequency section of the QF 5045 uses four 1-inch drivers mounted on a waveformer to produce a coherent 50° horizontal/45°vertical dispersion pattern and seamless transition of the frequencies between array elements. The mid-range system uses a direct radiating 12-inch neodymium driver.
The frequency response of the cabinet enables operation as full-range public address,reinforcement system or as the mid-/high system in a more powerful loustpeaker system configuration.
The QF 5045 is suitable for both groundstacking and flying, in horizontal and vertical orientations.
More: www.kme-sound.com