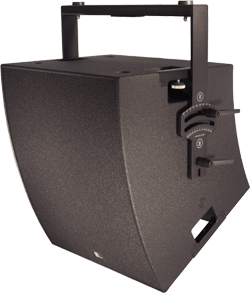 German loudspeaker manufacturer Fohhn Audio has launched the PT-6 plug-and-play compact line array and the Linea Focus Modular electronically steerable array.
The PT-6 high-performance line array unit has been developed to offer both powerful coverage and easy set-up. Sporting a twin coaxial speaker construction, it uses six 6.5-inch long excursion neodymium and three 1.4-inch compression drivers with 'a specially developed HF phase EQ'.
A vertical dispersion angle of 30° makes it well suited to use in venues with challenging acoustics, while a 110° horizontal dispersion angle allow the loudspeaker to address a wide range of sound reinforcement applications. The PT-6 can be stand-mounted, stacked or flown, and used in a wide range of venues such as festival tents, clubs, open-air events and concert halls. For more power and greater flexibility, two units can be combined using an integral safety mechanism that requires no additional tools.
Fohhn's Linea Focus Modular systems will now be available as three different active modules – two high-frequency units with eight 1-inch or 16 1-inch compression drivers, waveguide and horn, and a low-mid module with 32 4-inch long-excursion speakers.
Units can be freely combined and cascaded, their long reach and directionality designed to ensure excellent reproduction of both speech and music. The compact, visually unobtrusive modules are suited to use in large venues with challenging acoustics.
More: www.fohhn.com