DAS Audio has unveiled its Action Series loudspeakers.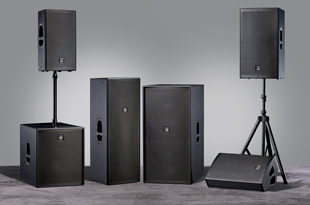 Available in both active and passive designs, the line includes floor monitors, free standing loudspeakers and subwoofers aimed at musicians and DJs, as well as small A/V and presentation systems.
'The Action Series is specifically designed for musicians, DJs and smaller A/V applications,' says Robert Giner, DAS Audio Director of Marketing. 'With built-in rigging points for safe and simple flying, rugged, Baltic Birch plywood enclosures, these loudspeakers deliver a high level of speech intelligibility, excellent music reproduction characteristics, and the versatility to deliver solid performance. Their rich feature set and the optionally available accessories enable these loudspeakers to function in a wide range of capacities—making the Action Series a first-rate value. I'm confident these loudspeakers will leave a favorable impression on prospective customers.'
The DAS Action Series loudspeaker line includes six models – in both active and passive configurations. These include a dedicated 12-inch floor monitor (the Action M12 and powered Action M12A) as well as the Action 12 and powered Action 12A. These two-way, compact models are comprised of a 12-inch LF transducer and a 1-inch HF driver. The Action 12A and M12A are driven by integrated 500W RMS power amps with a peak power handling capacity of 1kW. The Action 12 and Action 12A each have a 50Hz to 20kHz frequency range, while the Action M12's frequency response is 63Hz-20kHz and the M 12A's frequency response is from 60Hz-20kHz.
Along with the larger Action 15 and Action 15A models, the Action 12 and Action 12A have an asymmetric enclosure design that facilitates their use as both floor monitors or as free-standing PA loudspeakers. The Action 15 and powered Action 15A models are two-way designs that use a 15-inch LF transducer paired with a 1-inch HF compression driver. The Action 15 has a frequency range from 47Hz-20kHz while the Action 15A extends from 45Hz-20kHz. The amplifier in the Action 15A provides 500W continuous power and a peak rating of 1kW. For versatility, the Action M12, Action M12A, Action 15, and Action 15A all include pole mounting cups for easy and convenient 'speaker on a stick' applications.
For those seeking a portable PA speaker for larger venues, the DAS Audio Action 215 and Action 215A (powered) loudspeakers use dual 15-inch LF transducers mated with a 1.5-inch HF compression driver, the Action 215 and 215A deliver robust performance ideal for both music and spoken word applications. Frequency response for the Action 215 and Action 215A is 47Hz-20kHz and 45Hz-20kHz respectively.
For LF support, the line includes the single 18-inch Action 18 and the powered Action 18A, along with dual 18-inch models – the Action 218 and powered Action 218A. The Action 18 and Action 18A subwoofers include pole cups for convenient pole mounting of 'top boxes' such as the Action 12, Action 12A, Action 15 or Action 15A – making these two subwoofers an exceptional choice for portable PA use where quick, easy setup and robust sound quality are critical concerns. The powered Action 18A is driven by a 750W continuous/1.5kW peak integrated power amplifier.
With dual 18-inch LF transducers, these sub-bass systems are driven by an integrated 1,250W continuous/2.5kW peak power amplifier. The frequency range for the Action 218 and Action 218A is 29Hz-160Hz and 35Hz-160Hz respectively.
The two-way amps used in the Action Series powered loudspeakers have an EQ boost-flat switch, level control, mic/line switch, a logo on-off switch, and three status LEDs for limit, signal present, and power on. The subwoofers include a 100-160Hz variable low-pass filter, stereo outputs that can be switched between two modes, satellite crossover high-pass filter or an all-pass loop-thru output, a deep-loud EQ switch, a polarity inversion switch , LED on-off switch, level control, and three status LEDs for limit, signal present, and power on.
More: www.dasaudio.com