Outline used the WFX 2011 show to intruduce its Advanced Technology Audio System Initiative (ATASI), aimed at houses of worship, educational institution, theatre and other small- to medium-sized venues.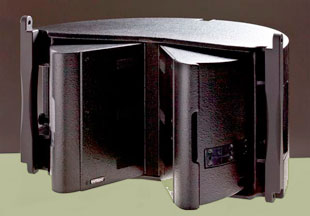 ATASI is centered on Outline's iMode technology, as found in its Mini-Compass active line array system and iSM floor monitor systems. iMode technology embeds a Linux-based CPU supporting parameter control software, a web server and power amplifier into the speaker cabinets, streamlining set-up and control by eliminating the outboard gear between the console and power amplifier.
'With the advent of iMode technology, both the Mini-Compass and iSM speaker have been completely transformed from great-sounding, space-saving systems into advanced technology platforms,' says Outline North America Senior VP & MD, Tom Bensen. 'Because of the power and control possibilities of iMode, installations like a house of worship will benefit through efficient use of system operators and engineers, the removal of side-of-stage amplifier racks and related heat- and power-draw issues, while offering the capability to shape and direct sound in any acoustic space. Outline's ATASI has no match in the market and will deliver superior performance from installation to operation in any venue.'
The benefits of ATASI cover every aspect of a live sound installation. Through iMode, the audio signal, either analogue or digital, travels directly to the cabinets, reducing installation time and costs. As all system parameters can be addressed via any web-enabled device, including through a dedicated iMode iPad/iPad 2 App, they can be remotely accessed from around or off-site, and an engineer can tune the floor monitors by listening to them on stage. The system is also tamper-proof, as everything the system needs to operate is enclosed within the speaker cabinets and is password protected.
Because the Mini-Compass high-frequency section passes through Outline's COMpact Polar Adjustable Sound System integrated waveguides, the frequency spectrum can be steered to cover the audience, minimising reflections on the walls and reducing feedback problems. The iSM floor monitors incorporate the patented folded waveguide with horn flare within the cabinet to provide tight and consistent control of the high-frequency spectrum in both the horizontal and vertical planes, maximising gain before feedback.
'Everything about Outline's Advanced Technology Audio System Initiative is of benefit to the end user,' says Bensen. 'With iMode, Mini-Compass and iSM, a house of worship, auditorium or theatre will have increased flexibility, ease of operation and maintenance while realising savings on installation, reduced staff and running costs that, over time, begin to pay for the system. In this age of restricted budgets and green sensibilities, Outline's ATASI delivers the right technology at the right time.'
More: www.outline.it