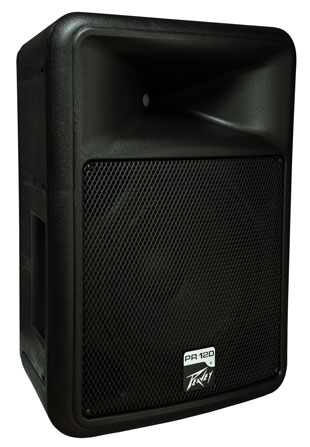 The Peavey PR series of active sound reinforcement loudspeakers now has class-D amplifier topology, resulting in the release of the lightweight on the PR 15D and PR 12D models.
The PR 15D and PR 12D are two-way systems with a bi-amplified class-D power section that drives a 15-inch/12-inch 150W (continuous) woofer and a 1.4-inch titanium-diaphragm RX14 50W (continuous) compression driver. The new amplifier section has allowed a 20 per cent reduction in weight over previous models – 37lbs/16.5kg for the PR 15P and 28 lbs/13kg for the PR 12P.
Both models are capable of handling up to 120dB peak SPL and feature Peavey's DDT speaker protection, which virtually eliminates audible power amplifier clipping. A built-in, heavy-duty crossover increases reliability at high power levels. A Woofer Servo monitors the woofer for back-EMF that is not a result of the drive signal and compensates for the unwanted woofer response in the overall signal. The result is a claimed 'well-controlled and precise sound with excellent low-end frequency handling'. A Constant Loudness (Fletcher-Munson) circuit accentuates bass and treble frequencies at low listening volume levels to provide additional clarity and uniform sound reproduction across the volume spectrum.
More: www.peavey.com