Outline has released GTO-Low bass extension cabinet – a dedicated bass extension for the GTO (Grand Touring Outline) Series line array speakers.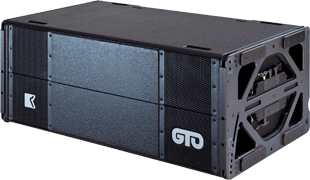 'The GTO-Low is a remarkable addition to the GTO Line Array family of speakers,' sais Tom Bensen, Senior VP and MD of Outline North America, at its AES unveiling. 'The reflex ports are in the same configuration as the main GTO cabinets, which preserve the low-frequency continuity of the array when the cabinets are combined. This allows combinations of GTO and GTO-Low to be deployed in a wide variety of ways depending on the application, venue and available space.'
GTO-Low features the same dual 15-inch drive units, physical dimensions and rigging hardware as the standard GTO cabinet for easy transport, set-up and maintenance. The modules have the same footprint and rigging hardware as GTO, so they can be readily incorporated within a GTO array to extend its overall height. Benefits include the removal of unwanted low frequencies on stage, much greater control over low frequencies in reverberant spaces and more precise overall system control in acoustically challenging venues.
The GTO-Low delivers a frequency response of (-10dB) 28Hz to 300Hz or (±3dB) 40Hz to 225Hz with power handling of 1.2 kW AES continuous and 4.8kW peak. The frequency response can be adjusted through a range of values to suit various mid/high elements beyond standard GTO and can handle up to 200Hz. In standard mode, the frequency response of the GTO-Low mirrors that of the low-frequency section of the GTO cabinet (50Hz to 100Hz), but the user may also choose to extend the range of the GTO-Low cabinets down to 40Hz if the application requires. The maximum SPL at 1m for one cabinet is 131dB continuous and 137dB peak, with 143dB continuous and 149dB peak for a four-cabinet array. Impedance is 2 x 8Ω.
While the GTO-Low has the same external shape as GTO to facilitate easy storage, transport and inclusion within GTO/GTO-Low combination systems, there are some significant internal differences. Because of its very high power handling and frequency response, the whole structure features extensive internal bracing and a single-piece front baffle to maintain structural integrity. GTO-Low still weighs only 72kg (159lb), including the rigging hardware, and uses Neodymium drivers. This provides advantages in crew requirements, deployment, transportation and storage, enhancing the efficient use of the system in touring applications and providing real-world operational advantages to the user.
More: www.outline.it