d&b audiotechnik has extended its E-Series of loudspeakers with the launch of the E4 and E5 models, joining the line below the recently launched E6 (the successor to the E3). The new speakers are intended for mobile close-field applications for speech and music reinforcement in theatres, conferences, industrial presentations and broadcast studios and as surround sound, delay and fill.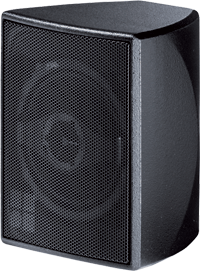 The E4 and E5 are lightweight two-way passive loudspeakers using a 4-inch and 5-inch LF driver respectively and a coaxially mounted wide dispersion dome tweeter. Both are mounted in compact enclosures and offer wide symmetrical dispersion patterns in the horizontal and vertical planes, and the cabinets may be mounted in either orientation.
They have built-in crossover networks and a frequency response extending from 130Hz to 20kHz for the E4 and 85Hz to 20kHz for the E5. Weighing 1.1kg (2.4lb) and 2.2kg (4.8lb) they produce a maximum SPL of 115dB and 117dB respectively. The enclosures are injection moulded and are coated with an impact-resistant black paint finish. The front of the loudspeakers is protected by a rigid metal grille and incorporated into the rear panel is an M10 threaded insert to accept a ball joint adapter, two NL4 connectors and a 2-pole push terminal.
The loudspeakers are weather protected and suitable for temporary outdoor use, and as with all other E-Series cabinets are available to order with a special colour option. They can be powered by either the d&b D6 or D12 amplifiers and up to four cabinets may be driven by each channel of either amplifier. Firmware and software updates including the E4 are available for download from the d&b website, under the relevant sections within Support/Downloads. These provide configurations for all current d&b amplifiers and the latest version of R1 Remote control software.
The E4 and E5 can be used stand-alone or supplemented by different subwoofers from the E-Series. 'When we launched the E6 into the E-Series we thought at the time that this little loudspeaker was the final piece to complete the package since the introduction of the E12X and the cardioid B4 subwoofers, however these two new loudspeakers have proved us wrong,' says Product Manager, Werner 'Vier' Bayer. 'The E4 and E5 are great additions to this series, providing further flexibility along with astonishing performance for their size.'
The E4 is sheduled for November 2011 available, while the E5 is set for January 2012. R1 Remote control software firmware and software updates to include the E5 will be available in January 2012.
More: www.dbaudio.com
More: www.democracyforlisteners.com