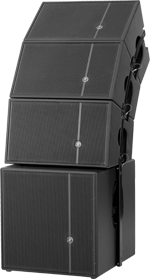 Mackie has added HDA High-Definition Arrayable Powered Loudspeaker to its HD Series. With the new line array, the range includes the HD1221, the HD1521 two-way and HD1531 three-way loudspeakers, and the 15-inch HD1501 and 18-inch HD1801 subwoofers.
Designed in collaboration with the EAW acoustical design team, the HDA is a flexible compact line array that can be configured with up to four elements per side for applications ranging from mid-size houses of worship to large clubs in a design that is more cost-effective than previously possible.
Each HDA module houses an EAW-designed 12-inch LF driver and dual Beyma 1.7-inch HF compression drivers mounted into a multi-cell horn, to deliver 1.2kW of peak system power. HDA incorporates Mackie's high-definition digital processing, which corrects inherent sonic issues that arise with all horn-loaded drivers. With a 100° x 20° coverage pattern and integrated rigging hardware that allows for up to four HDAs and two Mackie HD1801 Powered Subwoofers per side, a fully-realized HDA rig can easily handle large audiences with consistent, predictable coverage. A three-position voicing switch provides easy set-up of larger rigs and up to two modules can be pole-mounted directly above a subwoofer.
'The HDA is another example of what Mackie does best – delivering high-end pro audio technology to the masses,' says Brand Product Manager, Ben Olswang. 'Thanks to the integration of EAW's design expertise, the HDA sets an entirely new professional standard in the portable live sound market that is simply not achievable by our competitors.'
The HDA High-Definition Arrayable Powered Loudspeaker is available worldwide. The HDA has an MSRP of US$2,099.99/£1,699.00 including VAT.
More: www.mackie.com