Danley Sound Labs has announced two new professional loudspeakers, the SBH20FF and SH110. Both are intended to provide new solutions where physically larger loudspeakers may not be needed.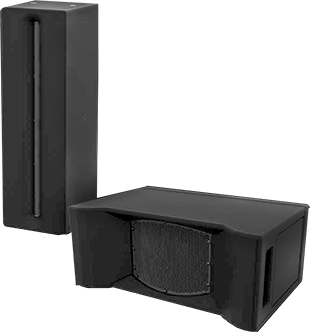 The SBH20FF uses the same Paraline technology and neodymium driver as the ILE3 to achieve sonic accuracy while maintaining a very tight 20° vertical dispersion and an extremely wide horizontal dispersion of 150°. This tight dispersion is built into a smaller cabinet with a clean and flat aesthetic thus the product's name 'FF' or Flat Front. Also unique to the SBH20FF is a four-point rigging system on the rear of the cabinet for use with Adaptive Technologies MM-060 for discrete pan and tilt bracketing.
'The SBH20FF is ideal for situations where a loudspeaker's vertical dispersion can cause too much reverberation in a room like a house of worship,' says Director Of Sales & Marketing, Skip Welch. 'They are also ideal where a speaker could potentially be mounted in a wall to hide their aesthetic for a very clean look. We see this product also as an ideal solution in public assembly halls, airports, train stations, retail kiosks and stadiums.'
In addition to the SBH20FF loudspeaker, the SH110 loudspeaker provides a new solution for live applications where a wide dispersion is needed. 'Customers who use Danley products for live applications have asked for some time now for a box that simply serves as a front fill,' says, Chief Engineer, Ivan Beaver. 'We didn't want to create a solution that was just another 'front fill loudspeaker,' but one that offered something new and innovative for live installs and touring.'
The SH110 is built as a low-profile loudspeaker with wide coverage and high output. Developed from the SH95HO, the SH110 uses the same dual 8-inch LF and 1.4-inch HF drivers as the SH95HO but has a wider 110° Synergy Horn. The diminutive 10-inch high frontal dimension allows this loudspeaker to blend in on stage or in a permanent install. The SH110 is available in touring, install and Extreme Weather variants, as well as colour options ranging from black, white or a custom colour to fit specific applications.
'Tom Danley and our engineering staff are constantly innovating,' says Mike Hedden, chief steward in charge at Danley Sound Labs. 'During the pandemic, we had an opportunity to step back and look at our entire product line and ask ourselves again "how do we create the best experience imaginable for our customers and their customers?" It's an exciting time for our company and we're excited about not only our current product line, but what's to come.'
More: www.danleysoundlabs.com