EAW has launched the KF210 two-way, twin 10-inch line array.
Delivering a maximum SPL of 141dB, three-point rigging and weather protection, the KF210 is a a small, durable package, designed to support a wide range of applications with ruggedness required for the long-haul.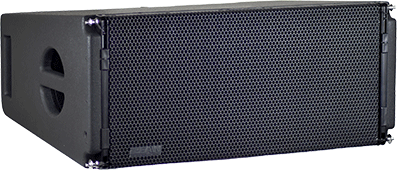 'Despite its small form, there is no sacrificing output for size with the KF210,' the company says. 'This newest solution is physically and acoustically sized to support the most events while requiring the fewest resources to deploy.'
The system frequency esponse spans 55Hz–18kHz, with a niminal beam width of 90° x 12°. A recessed input panel keeps safe from damage, and allows the KF210 to remain wired up on a cart. It can be deployed in both active and passive modes, and features front rigging that retracts to keep it safe and concealed when not in use. It also incorporates multiple integrated handholds that assist maneuverability both through the warehouse, onto a truck and at the event.
Weighing in at 60lbs, this line array solution presents itself as an ideal option for small crews serving medium- to large-scale outdoor festivals, corporate events, houses of worship, performing arts centres and theatres. Featuring dual, symmetrically placed 10-inch woofers, 90° of horizontal bandwidth and a 3-inch voice coil compression driver mounted to EAW's proprietary Isophasic Waveguide, the KF210 is also suited to applications in challenging acoustic spaces where accurate pattern control is required.
More: www.eaw.com