Alcons Audio has announced the LR24/120 mid-size line array for medium to larger applications.
The three-way, bi-amped LR24/120 is designed to complement the narrower dispersion, longer throw LR24/90, and features the proprietary RBN1202rs 12-inch pro-ribbon transducer with acoustically and electronically symmetrical component configuration, delivering a cylindrical wavefront with unique pattern control in both the vertical and horizontal plane.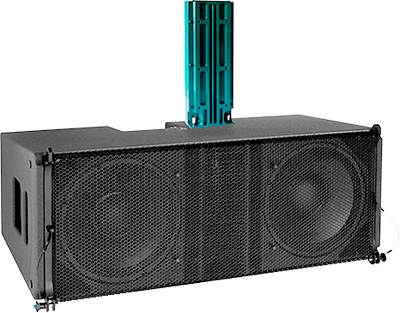 The RBN1202's power handling of 2.5kW is enabled by its 12-inch voice-coil and RMS-to-peak ratio of 1:15 from 1kHz to 20kHz, delivering intelligibility with maximum dynamic headroom reserve.
The pro-ribbon driver is complemented by a mid-frequency section comprising two high-efficiency 6.5-inch midrange transducers with neodymium motor structures; The low-frequency section features new generation 12-inch transducers, fitted with a large, dual 3.5-inch voice coil neodymium motor. This enables a significantly extended excursion with high sensitivity for accurate, high output bass, with an extremely low distortion.
With a fast impulse response and claiming the industry's lowest distortion, the LR24/120 also incorporates Signal Integrity Sensing (SIS) pre-wiring. This circuit ensures dynamic cable/connector compensation between the LR24/120 and Alcons' Sentinel amplified loudspeaker controller that powers it. Dedicated system configuration presets feature the VHIR flat-phase processing.
The patented flying system facilitates both compressed and non-compressed suspension, while enabling angle setting on the cabinets without lifting the array. It has a WLL of 24 cabinets under 10:1 safety.
'The LR24 system offers us inroads into the production market and extends our portfolio for the installed market as well,' says Head of Alcons Audio R&D, Philip de Haan. 'With different conversion frames to connect to other line-arrays, we have embedded the LR24 in the L-series eco system.
'From the users we're getting great feedback and the system's size/weight-to-output ratio, in combination with the unique sound quality, seems to hit the sweet-spot for many. The new wide-dispersion LR24/120 was a logical request from our user group, to extend the Alcons signature sound to a wider audience.'
More: www.lr24.info