Portuguese company Next Audiogroup has announced the Pro Series of point-source speakers for installation and portable PA applications – the passive Pro12 and Pro15 models, and powered Pro12A and Pro15A.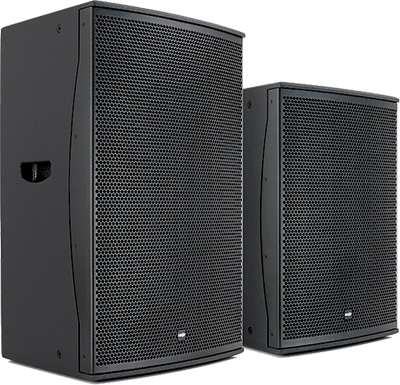 Sporting a 'modern and trendy design', the loudspeakers promise high output and wide dynamics, with high linearity and fidelity at a competitive price point. They can be used in settings ranging from hotels, restaurants, bars, lounges and conference rooms to DJs and live bands. Theseloud speakers perform equally well as floor monitors (Pro12 and Pro15 only), on tripod stands or as a flying system with a wide range of rigging points.
The cabinets are constructed using premium-quality 15mm plywood with polyurethane coating. Front protection is assured by an acoustically transparent powder-coated steel grille covered with acoustic foam.
The Pro12A and Pro15A have an onboard two-channel mixer with Bluetooth connectivity and five presets to optimise them for different sound spaces. Instruments, microphones, CD players or an audio mixer can be connected to the active Pro Series input. The loudspeakers can be connected together other using the Mix Out connector.
The Pro12 and Pro15 speakers are equipped with two NL4 speaker connectors located on the rear plate, providing reliable connection with easy link-through to cabinets. An active external subwoofer can be added to extend the system frequency response.
'Thanks to the focus on details, the Pro Series is one of the best available solutions on its segment.' says Tiago Correia from the Next Audiogroup R&D Department.
The premium-quality components provide a balanced sound with an excellent low frequency extension and a refined look.'
An optional U-bracket allows mounting the cabinets both horizontally and vertically, with a total angle adjustment span of 115º. Depending on the adjustment bolt used, the speaker's splay angle may vary (100º to -15º, 10º to -105º or -80º to -195º). Alternatively, a two-axis wall bracket can be used on the Pro12 passive speaker. The adjustment angle span will vary according to the selected pan and tilt angles (max 30º).
More: www.nextaudiogroup.com