RCF Audio's new Compact A loudspeakers claim 'impressive sound pressure levels with outstanding sound quality' through the use of purpose-designed transducers, an advanced crossover and a constant directivity waveguide that produces coherent coverage to the listening area with distortion-free sound and reliability.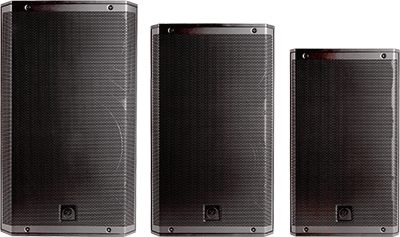 Available in three sizes starting from 10-inch to 15-inch woofers (Compact A 15, Compact A 12 and Compact A 10)with excellent acoustic performance for both background and foreground music, The 1.75-inch compression driver voice-coil design with Polyimide-Kapton dome features a new bonding technology and reinforced ribs that are claimed to be ten times more durable than previous designs. The redesigned phase plug increases sound clarity, enhancing transient response and improving coupling with the low-frequency transducer.
The low-frequency transducer design gains more stability over higher currents, with less distortion, and is highly efficient in terms of heat dissipation. RCF quality control is very strict. Our woofers are tested with a 200 hours continuous signal to stress the transducer at extreme levels.
Compact A loudspeakers are also flexible and easy to carry, thanks to ergonomic handles on both sides and the top. Each model can also be flown, wall- or truss-mounted using multiple M10 rigging points, the included steel pole socket and optional accessories.
The new True Resistive Waveguide is the result of several refinements in both the transducers' and the vented ports' design with Finite Element Analysis, and constant measurement in RCF anechoic chambers. With its optimised sound shaping, the coverage angle of the waveguide provides constant directivity to the entire listening area and improved stereo panorama.
Lightweight and powerful, RCF drivers claim to be a reference for high performance. All transducers are designed by RCF in Italy for maximum reliability and use well matched components. The crossover frequency is set at a lower frequency than is usual, resulting in a clear vocal reproduction with Dynamic Active Mosfet protection.
The cabinet is constructed from a polypropylene composite material, and uses M-brace internal reinforcement to make it easy to carry and secure to mount on a pole, fly, and wall/truss-mount using its multiple rigging points.
More: www.rcf.it