Designed for medium-throw corporate A/V and live sound applications as well as fixed installation, the Audiofocus Carys C6 passive column loudspeaker is the first in its class to be equipped with a 6.5-inch AMT (Air Motion Transformer) HF driver, dual 6-inch LMH and triple 6-inch LF transducers, allowing it to achieve an SPL of 135.5dB in a compact format.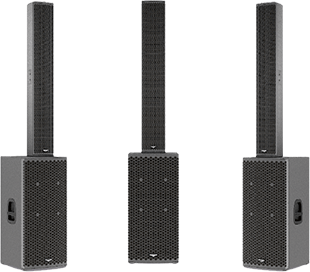 Carys C6 is also the first product to benefit from a specially engineered horn and waveguide, giving broad, smooth horizontal coverage and tight vertical pattern control with a H/V of 120° (+5°/-20°).
The accompanying Carys C15LS is a combined LF/Sub incorporating a 15-inch neodymium LF transducer with Tetracoil technology, delivering an SPL of 137dB and lower distortion than comparable subs. Both Carys C15LS and C6 are cardioid designs, permitting them to be placed close to walls or in corners without compromising audio performance. Tuned, full-range cardioid vents also allow increased gain before feedback when used to reinforce headset and lavalier mics.
Carys C6 can be mounted on top of an accompanying C15LS, with plug-and-play amplification and audio connection enabling rapid deployment of a full-range PA system without additional amplifiers or cabling. Alternative wall or rigging bar mounting options and recessed PowerCon, Ethercon and XLR connections at both ends allow Carys C6 to adapt to the needs of diverse venues.
'Our vision with Carys is to offer the kind of linearity, ultra-low distortion and precise directivity you would expect from a premium line array system, but in a compact, simple package that can be discreetly installed in a historic venue or quickly set up for a Paris catwalk show,' explains Audiofocus MS, Ann Leroy. 'To achieve our ambitions, we made our biggest investment in R&D to date and incorporated multiple proprietary technologies. We also put a lot of energy into making Carys an elegant, timeless design that will not look out of place at a red-carpet awards ceremony or product launch.'
Like all its touring and installation loudspeakers, Carys C6 and C15LS are built in the Audiofocus manufacturing facility in Belgium.
More: www.audiofocus.eu