BassBoss Loudspeakers has released the SSP215-MkII Low-Profile Subwoofer, 'a powerful subwoofer with a small frontal dimension'.
The double 15-inch SSP215-MkII delivers an LF response that is -3dB at 35Hz using long-excursion, low-distortion drivers, claiming high SPL at frequencies lower than many double 18-inch cabinets.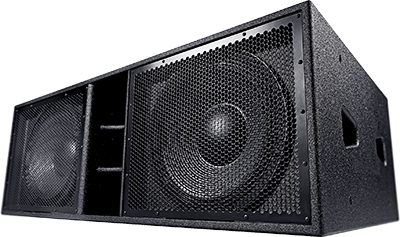 The SSP215-MkII is designed to be sited under low stages and flown from low ceilings using 16 integrated M10 fly points. The 18mm plywood cabinet is 29.5-inch deep allowing it to fit between ceiling joists on at least 3ft centres. This is also a convenient truck-pack size, allowing transport carts of 30-inch to protect the cabinets and leave room for covers, while being able to roll through 32-inch doorways.
All the connectors are recessed into the back of the cabinet, and all cooling can be accomplished through the port so no additional depth beyond 30-inch is required when in use. The third dimension is 48-inch, allowing room for a large port and enough interior volume to be acoustically efficient.
A 4kW RMS (continuous) amplifier equipped with a digital signal processor that provides high-pass, low-pass and limiting functions as well as integrating the alignment with all other BassBoss subs and tops, drives the loudspeaker.
Finished in tough black textured polyurea coating, the enclosure also features four large rubber feet and corresponding recesses in the top to facilitate interlocking the boxes with each other and also with the BassBoss SSP218 Powered Subwoofer when stacked.
The feet interlock with the transport carts helping to ensure the cabinets get in and out of venues safely and unscathed. The woofers are protected by powder-coated, perforated steel grilles. A top-mounted pole socket provides for mid-high loudspeakers to be mounted on a straight speaker pole above the subwoofer.
More: www.bassboss.com