Danley Sound Labs is expanding its Jericho family of loudspeakers with the release of the full-range, single-source J8-94 loudspeaker.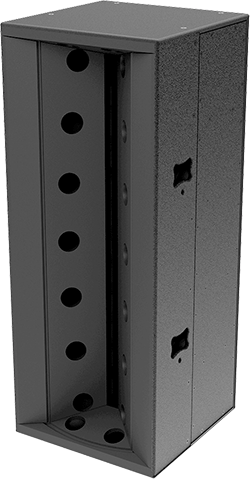 Intended for use in stadia, sports venues, large live music festivals and venues the Jericho range of loudspeakers calls on multiple Danley patents, including the Synergy Horn, Layered Combiner and Tapped Horn, as well as other mid and high frequency combining technologies.
'The J8-94 was developed right after the J7-95 – where the J7 was about getting as much sound out of a very compact package, the J8 is about using that same technology to gain more SPL with lower size constraints,' explains Director of Sales & Marketing, Skip Welch. 'The J8 uses the same fifth generation mid/high combiner as the J7 but with an even higher driver density.' 'It is the perfect compliment to any of our high-output subwoofers, including those in the BC Family of subwoofers.'
The J8 is a Synergy Horn with 46 drivers connected to a single horn with 24 1-inch compression drivers mated to a fifth-generation high-frequency combiner, along with ten 10-inch horn-loaded low frequency drivers, and 12 6-inch horn loaded mid-range drivers.
The J8-94 is offered both in a 13 ply Baltic Birch encased in PolyUrea for protection from impact and atmospheric conditions, and as an EW (Extreme Weather) variant with protection from the elements through the use of high-density polyurethane panels impregnated with fiberglass fibres in the place of standard plywood. Install and touring versions are equipped with M10 rigging points.
The J8-94 has been designed to be driven by a single or paired Danley DNA20K4-Pro amplifiers. The use of the second DNA20K4-Pro provides system redundancy in the case an amplifier goes down during the event or show. If this does occur, only half the loudspeaker goes down and the show goes on.
'We always engineer our loudspeakers to meet the needs of our customers,' adds Danley Sound Labs Chief Steward in Charge, Mike Hedden. 'The increasing desire for more sound pressure levels at longer distances keeps pushing Danley further than anyone in our industry.'