RCF has launched the TT 515-A Professional Active Speaker and companion TT 808-AS subwoofer.
'Flexibility, power, and a small footprint make the TT 515-A ideal for professional and installed applications, where size and weight are critical factors,' the company says. 'This approach combines the advantages of TT+ technology, such as controlled dispersion, outstanding clarity, high-power, multiple rigging accessories, weather protection, RDNet real-time monitoring, and management software with recallable presets.'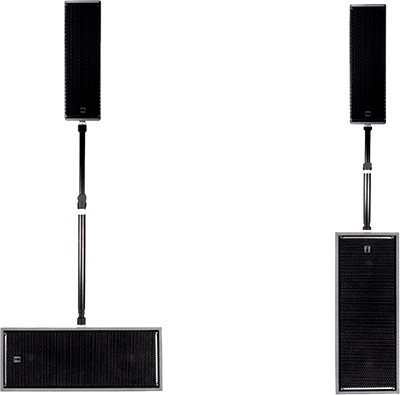 Capable of 127dB, the loudspeaker is intended to be suited to uses including as a compact and powerful main system, a supplement a larger system, for 3D/immersive sound systems and high-quality installations. Bass Motion Control extends the lowest audible frequency without affecting the transducer's stability, limiting over-excursions for greater reliability and superior performance at high volume levels. FiRPhase processing optimises dynamics amplitude and time behaviour for a 0° linear phase
The TT 515-A transducer configuration pairs two custom-loaded 5-inch cone drivers with a rotatable CMD waveguide surrounding a titanium, 1.75-inch high-frequency compression driver.
TT 808-AS is a compact low-profile high-performance active subwoofer. It features two vented 8-inch cone woofers powered by a 1kW two-channel amplifier, one for each woofer. The Baltic birch plywood cabinet is coated with black Polyurea and weatherproof treatment. Management and tuning are available via RDNet software or via two preset buttons, a polarity button, and a variable delay accessible located on the rear panel.
The TT 808 also features front-facing vented ports, so it can be installed in recessed spaces, and includes rubber feet for two sides, and two threaded pole-mounts for horizontal and vertical placement. Two stabilising brackets are included, which make vertical placement stable and firm. TT 808-AS can be used stand-alone, in subwoofer arrays, or as the low-frequency complement for TT 515-A speaker.
The multiple rigging accessories and the unobtrusive form factor of the cabinet are suitable for a wide range of configurations including hanging, pole, truss, wall and ceiling mounting – in horizontal or vertical orientation, with a rotatable waveguide (and rotatable logo). TT 808-AS also features balancing brackets for vertical stability.
More: www.rcf.it