Designed for use as a main sound system, fill speaker or stage monitor, RCF's new ART 9 is claimed to 'set a new standard in professional audio with its innovative electroacoustic design and extreme versatility'.
RCF is marking a 25-year history of the ART loudspeaker series with the launch of the ninth generation – six active models sharing the best-in-class two-channel 2.1kW class-D amplification with advanced DSP.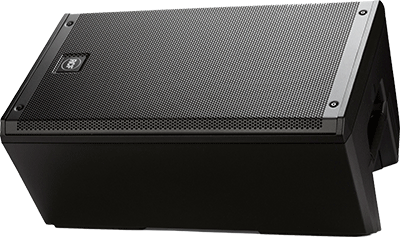 Reckoned to be 50 per cent more powerful than previous models, ART 9 combines extremely high sound pressure levels with fan-free energy-efficiency. The amplifier circuit is attached to a solid aluminium heat exchanger in the rear of the unit with no moving parts. Performance improvements are assured by new RCF transducers, featuring advanced materials such as Kapton, Titanium and Neodymium.
A new 1.75-inch compression driver with Polyimide-Kapton dome features new bonding technology and reinforced ribs that make it ten times more durable than previous models. Newly designed woofers gain more stability over high currents, with less distortion. Every woofer design is tested with a 200-hour continuous signal to stress the transducer at extreme levels.
The electroacoustic design of ART 9 includes the new True Resistive Waveguide (TRW), the result of several refinements in both the transducers' and the vented ports' design with Finite Element Analysis, and constant measurement in RCF anechoic chambers. TRW mimics a resonance-free pure resistive load reducing the high-frequency distortion of a classic horn. With its asymmetric acoustic radiation, the coverage angle of the waveguide provides constant directivity to the entire listening area with a balanced stereo panorama.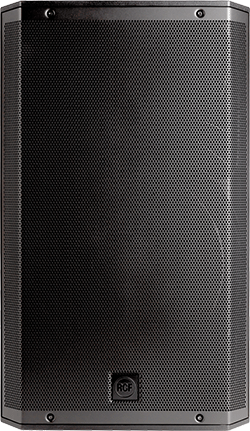 These components work with two RCF DSP algorithms, one for phase linearisation and crossover design, the other for woofer excursion management. FiRPhase FiR technology allows for coherent distribution of sound without phase distortion, ensuring minimum latencies to the system. With proprietary FiRPhase technology, the new shape, and the placement of the vented ports, the loudspeaker now acts as a single source for a true sound image.
The woofer excursion management feature, Bass Motion Control works by creating a complete map of the dynamic behaviour of the transducer, to generate a custom algorithm that only limits over-excursions. This gives total freedom of signal reproduction, avoiding both high-pass filters and large-band limiters. The speaker is now allowed to reproduce the input signal at all volume levels for the entire audible spectrum, maintaining all nuances of the music with deep, detailed bass response.
The sleek black cabinet uses a polypropylene composite material with a radically new construction concept. RCF's M-Brace internal reinforcement design connects four sides of the enclosure with the amplifier, preventing any deformation for a completely inert body, with augmented acoustical damping even at maximum volume settings. M-brace also performs exceptionally well for greater resistance to mechanical stress.
The ART 9 is easy to move and transport with ergonomic handles on both sides and the top. The underside includes a steel pole socket for mounting on a stand or subwoofer pole. Each model can also be flown, wall- or truss-mounted using multiple M10 rigging points and special accessories.
The ART 9 Series comprises six models, contaning from 10-inch to 15-inch woofers and sharing the same 2.1kW power amplifier. ART 945-A is the largest, most powerful model of the series delivering 135dB max SPL from a 4-inch titanium compression driver and neodymium woofer that goes down to 45Hz. The ART 935-A and ART 932-A produce 134dB max SPL and 133dB SPL respectively, sharing the same 3-inch titanium compression driver. The clarity and minimal distortion of the new Kapton driver of the ART 915-A, ART 912-A and ART 910-A features remarkable SPL and power-to-weight ratio.
'The ART 9 Series is an evolution of the ART loudspeaker concept and a revolution in professional portable sound. RCF offers a new standard in pro audio with a remarkable electro-acoustic design and professional versatility, all packed in a solid, tour-ready cabinet also suitable for high-power install applications', the company says.