Wharfedale Pro has announced the Reason-X series of three-way passive loudspeakers with matching subwoofers.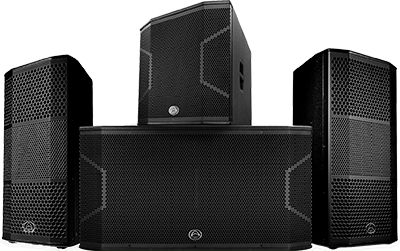 'Built exclusively to deliver sonic definition at high volumes, the three-way configuration delivers a response which is almost impossible to achieve from a standard two-way system,' the copany says. 'Wharfedale Pro have used new concepts and new components to make Reason-X the premium loudspeaker series in their passive, point-source portfolio.'
The full range models (Reason-X12 and X15) employ a new Z38 HF compression driver that has large cooling fins to disperse generated heat, and a unique 1.5-inch ring-shaped polyethylene flat diaphragm to bring 'a precious feeling of space and air' to high frequencies. The 100° x 70° waveguide is rotatable, making Reason-X suitable for vertical or horizontal applications.
The mid-range of the three-way system comes from a custom Wharfedale Pro 8-inch driver with an aluminium basket and ferrite magnet. Meanwhile, the LF driver boasts a 3-inch voice coil and large φ190mm ferrite magnet.
The series is completed by two subwoofers. A single 18-inch box and a 'floor destroying' 2kW AES, 148dB Max SPL dual 18-inch box. New LF drivers have been manufactured that feature Nomex spiders for suspension and durability. Wharfedale Pro says that the 4-inch voice coils and a newly designed aluminium basket make these LF transducers 'impossible to describe in words – they need listening to instead'.
All models are constructed of Baltic birch and use thick steel front grilles for protection and durability.
More: www.wharfedalepro.com