Outline added the all-new Vegas 4 to its Vegas loudspeaker line.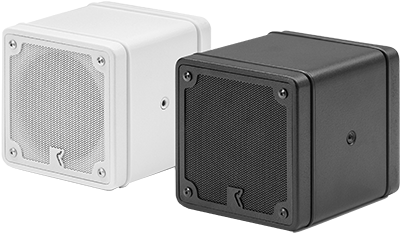 Designed and manufactured in Italy, Vegas 4 is a multi-purpose miniature loudspeaker featuring a single-driver design and a new 4-inch transducer created by Outline's engineers specifically for the product. Its power handling, audio performance (even off-axis, traditionally not a strong point of single-driver designs), thoughtful design and robustness allow it to fulfil a wide range of roles in both fixed and mobile applications.
Measuring 120mm x 120mm x 126mm and weighing 1.6kg (3.5lb), multiple Vegas 4s can be deployed in projects where high-quality audio but where minimum visual impact are demanded – for example, delays and surrounds in theatre, in corporate A/V, leisure, retail, worship and much more. When combined with Outline's Sub 110 compact subwoofer a true full-range audio solution can be delivered in a small overall footprint.
The L3000 DSP-equipped miniature power amplifier is offered as the 'ideal partner' to the Vegas 4 –it can drive and process up to 16 Vegas 4s, or eight Vegas 4s and two Sub 110s. Alternatively, any of Outline's amplifiers will work equally well, with the iP24 processor available as an external processing partner.
Vegas 4 is supplied with a specially-designed bracket which allows mounting on virtually any surface but also on regular microphone stands, so deployment in any situation is very easy. The enclosure is manufactured to IP55 protection rating, making it ideal for use in extremes of heat, cold and humidity and is also available in black, white or any one of over 200 RAL colours to match decor as required.
More: https://outline.it