The BassBoss BB15 powered subwoofer offers LF in a small package for transport in smaller vehicles and use in smaller events and intimate spaces.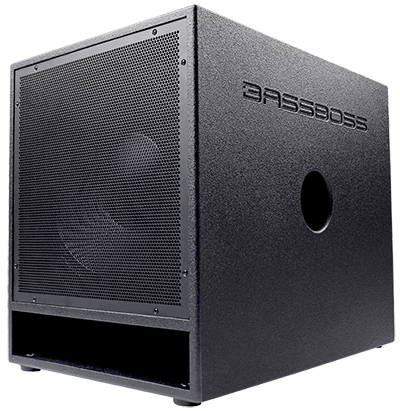 The BB15 offers plug-and-play deployment and integrated DSP in a 21-inch x 17-inch x 24-inch cabinet with a frequency response down to 40Hz (±3dB).
Power is provided by a 2.4kW RMS amplifier with integrated, comprehensive DSP – so no outboard processing is required (and none is recommended). BassBoss subs can be connected directly to a mixer The built-in processing includes only a high-pass filter, a low-pass filter and limiting. There is no need for any EQ in the signal for the speaker to provide a broad, flat frequency response. A proprietary limiter system protects the woofer from thermal and over-excursion damage.
The BB15 is designed to minimise size and weight while maximising efficiency and output. An efficient, universal application, cost-effective subwoofer, it features a 15-inch neodymium motor woofer with a 4-inch split-wound, multi-layer aluminium voice coil in a Baltic Birch enclosure. The rigid, cross-braced cabinet constructed from 15mm multi-ply Birch and is finished in a rugged, black polyurethane coating. Drivers are protected by a black powder-coated, perforated steel grille.
The BB15's driver uses a high-intensity Neodymium magnet, which is lighter and provides higher efficiency than ceramic ferrite so the result is a lighter and louder cabinet. Split-wound coils produce a linear force through the range of movement of the cone, for low distortion and high linearity at high output. Aluminium windings deliver higher motor force than an equivalent same mass as copper, resulting in further efficiency.
Key specs:
Single 15-inch direct-radiating vented subwoofer.
Nominal Dispersion: omnidirectional.
Frequency Response (±3 dB): 40Hz–105Hz.
Preset 1 response: 50Hz-19kHz.
Preset 2 response: 65Hz-19kHz.
Preset 3 response: 80Hz-19kHz.
Preset 4 response: 100Hz-19kHz.
Amplification 2.4kW class-D.
Maximum continuous SPL: 118dB.
Peak SPL 121dB.
Maximum Sustained Output: 127dB SPL (@1m half-space)
Max SPL (Peak) Nominal: 130dB.
Transducer: 15-inch (380mm) Neodymium motor woofer with 4-inch (100mm) · voicecoil.
Net Weight: 70lbs.
Shipping Weight: 83 lbs.
More: www.BassBoss.com