Fulcrum Acoustic's CS218L is a low profile, dual 18-inch subcardioid subwoofer module for permanent installation in a wide range of applications.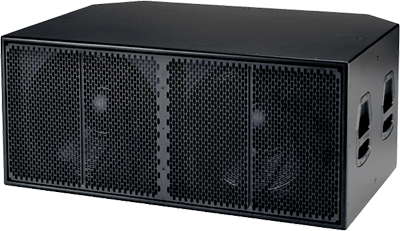 The CS218L incorporates proprietary Passive Cardioid Technology to limit rear LF radiation to >10dB, with passive cardioid technology meaning an additional amplifier channel is not required.
Twelve M10 mounting points facilitate either horizontal or vertical suspension, while vibration isolation feet isolate vibration from the stage or room floor, and reduce cabinet movement.
The subcardioid behavior relies on an acoustical circuit that balances the position of the low frequency driver, the enclosure depth and volume, and rear-mounted ports that include a calibrated resistive element. By opting for a subcardioid pattern as opposed to a pure, hyper or super cardioid pattern, the rear rejection increases when the modules are deployed in a subwoofer array.
Fulcrum Acoustic's TQ processing is an integral part of the CS218L design. Sound, innovative acoustical design combined with state of the art digital processing leads to exceptional clarity and precise transient response, even at very high sound pressure levels. The DSPcan be provided by one of many supported platforms.
More: www.fulcrum-acoustic.com