Wharfedale Pro has released its latest IPX6 certified line array system – the WLA-210XF line array.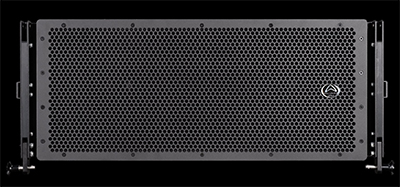 Using the same custom Wharfedale Pro 10-inch drivers and 3-inch Neo compression driver as the WLA-210X array, the new WLA-210XF system brings resilience in extreme weather conditions. Delivering up to 138dB Max SPL @ 1m, each WLA-210XF element represents a powerful, all-weather solution.
The system is supported by a new dual 15-inch WLA-210XSubF subwoofer, delivering aa Max SPL of 145dB (@1m) , this sub delivers the low-end power needed for the array.
Both the WLA-210XF and WLA-210XSubF are constructed of up to 18mm premium birch plywood, are covered in waterproof paint and use integral aluminium rigging hardware. Flat front grilles forged from 3mm aluminium also ensure long lasting looks and durability during system transportation and storage.
Wax wrapped components and an aluminium inner case protect the drivers and crossovers from water damage. In addition, Neutrik NLT4 MP BAG waterproof connectors have been chosen to give the the highest level of weather protection.
Both the WLA-210XF and the WLA-210XSUBF are supported within Ease software.
Key specs:
IPX6 Waterproof Certification.
Wax wrapped components.
Anti-corrosion aluminium steel hardware.
Waterproof Neutrik input connectors.
Stainless steel common fly frame.
Custom Wharfedale Pro transducers.
Ease library support.
More: www.wharfedalepro.com