HK Audio's new Elements E 115 Sub D system subwoofer addresses the company's perceived demand for increased bass performance and smart, contemporary features such as networkability, software-based remote control and Plug'n'Play Cardioid functionality.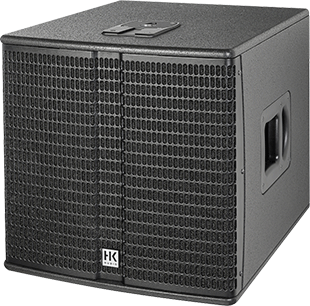 The new 15-inch high-performance woofer and1.5kW power amplifier together deliver noticeably greater sound pressure and an extended low frequency response over their precdecessor – Elements E 115 Sub D claims 900W power amplifier output to drive up to three E 835 mid/high units.
The centrepiece of the new Elements E 115 Sub D system subwoofer is the integrated digital controller. Compared to the previous analogue filters, this allows effective and detailed processing of the sound in both the bass and the mid-high frequency range. This can be heard particularly with the E 435 and E 835 mid/high units, which play at a new level in terms of frequency response, resolution and radiation when operated with the Elements E 115 Sub D.
The new high-performance controller also provides the basis for a range of modern, practical features. This includes full networking capability for several Elements stacks or even for Linear 7 speaker models. Using the HK Audio DSP Control Software available for MacOS and Windows, even complex networks can be controlled conveniently and clearly from the FOH position. It allows you to adjust the level of the system and the lines, as well as a fully parametric 10-band EQ, tunable high- and low-pass filters, delay times, limiters and other parameters.
A further highlight is the efficient, simple-to-use Cardioid bass function. To use it, simply connect an HK Audio Linear Sub 1500 A to the Cardioid Out of the Elements E 115 Sub D. The result is a powerful focusing of the forward bass radiation with rear bass attenuation by approximately 30dB.
'The new Elements E 115 Sub D not only stands out with its impressive bass experience, efficient Plug'n'Play Cardioid function, advanced networkability and professional controlling options – it also takes the mid- and high-range reproduction of existing Elements systems to a whole new level, thus considerably boosting sustainability and value retention,' says HK Audio Senior Product Manager, Lars Reime.
The Elements E 115 Sub D will be available in stores from November 2020.
More: http://hkaudio.com