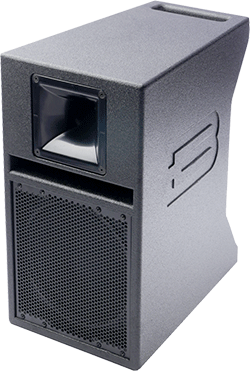 Los Angeles- based loudspeaker manufacturer BassBoss has released the SV9, a studio-reference quality monitor suited to use beyond the limits of the recording setting owing to its rugged finish, handles, protective grilles and a substantial of power. Its 90º dispersion and throw support applications involving larger audiences.
The SV9's birch plywood enclosure contains a 9-inch LF driver with 2.5-inch voice-coil and Neodymium magnet and a single-roll rubber surround for smooth frequency response, and an annular diaphragm ring-radiator Neodymium HF driver. The amplifier is a 1,2kW class-D SMPS with Power Factor Correction, offering 800W LF and 400W HF and accompanied by DSP can run proprietary algorithms and has presets for a variety of configurations.
The SV9 claims a 'flat frequency response with a neutral character for critical monitoring duties and, thanks to lots of power, it delivers remarkably high output for its size'. The enclosure measures 18-inch x 10-inch x 15-inch, and weighs 26lb.
More: www.bassboss.com/sv9