BishopSound's new compact 18mm Birch Plywood 1kW RMS active Delta Dual BD212AS twin 12-inch subwoofer is designed to meet the diverse requirements of mobile and installation applications, as well as Dolby Atmos home cinema installations. Professional, tough and roadie proof, the Delta dual twin 12-inch claims 'previously unobtainable sound quality from such a compact format'.
With onboard digital amplification delivering 1kW RMS down to 30Hz, and with a maximum SPL of 131dB, this 18mm birch plywood clad subwoofer addresses the demands of live gigs, pubs and club installations, and large home cinemas at a very affordable price.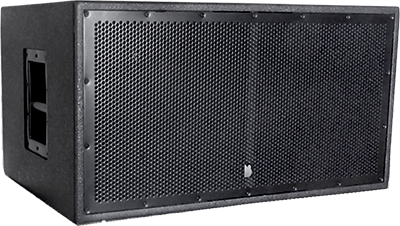 In common with all BishopSound's active subwoofers, the Delta Dual twin 12-inch features a host of professional features including a Neutrik Powercon In/Out power feed – BishopSound deems locking mains cables for ground-level active professional subwoofers essential.
'The move to active subwoofers has come from the need for a fast fix in places where tiny install speakers have been fitted for aesthetics and customers and owners have asked for a deeper richer tone,' says company founder. Andrew Bishop. 'For touring, a big bass sound needs to come from the most compact durable box. Either way the joy of plug-and-play, with no additional processing equipment makes life easy'.
Two simple potentiometers on the rear panel control the volume and low-pass filter while Channel A and Channel B can be fed by XLR or quarter-inch jack combi socket, and a link out allows the original signal to be passed to multiple active subwoofers or mid/top range active cabinets.
Other features include a 1.2mm thick powder coated grille, rubber insulation feet, a 20mm screw-in inverted telescopic pole mount, a countersunk extra thick 'ding-proof' grille to prevent grille damage when on tour and the use of acoustic foam behind the grille to prevent moisture and dust ingression. Completing the Delta dual 12's professional specifications, the 18mm birch ply housing is treated to four coats of textured, tough acrylic PU polymer paint and comes with chunky, tactile steel handles.
The BishopSound Delta Dual 12-inch BD212as active subwoofer will be available from 1 July, at an introductory UK price of £599 per box, including VAT and free UK Mainland delivery.
More: www.bishopsound.com