DAS Audio released the Convert 12A curved source array unit and Convert 15A multi-function arrayable loudspeaker at Pro Light & Sound.
Convert 15A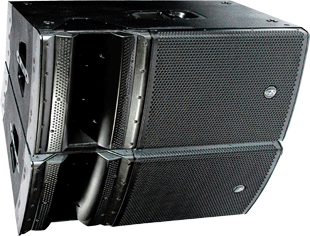 The Convert 15A arrayable loudspeaker is a powered, multi-function system incorporating user-definable dispersion characteristics, allowing the system to be used as either a curved source array or used individually as a point source.
The horizontal and vertical dispersion characteristics of the system can be 'converted', to meet the specific requirements of almost any application. This is achieved using the proprietary Digitally Convertible Dispersion (DCD) preset which modifies the horizontal dispersion of the from 20º to 40º. Vertical dispersion can also be altered using a combination of dispersion panels and digital presets to achieve 60º, 75º asymmetrical or 90º coverage.
Low-frequency reproduction is handled by the DAS 15GNR4 loudspeaker, a 15-inch device incorporating a 102 mm (4-inch) voice coil and a light-weight neodymium magnet assembly. The Convert 15A employs the DAS Array Coupling Device (ACD) for improved coupling between adjacent units when used in curved source arrays.
The M-60N neodymium compression driver handles high-frequency reproduction. The driver's 44 mm (1.75-inch) voice coil is made using copper clad aluminum flat wire attached to a urea polyamide diaphragm. Three M-60N units are attached to the new BPS-320 dSERPIS trifunctional waveguide capable of providing optimum coherency as a horizontal or vertical curved source array or as a point source.
The Convert 15A's electronics that includes digital signal processing, component and amplifier protection and a new 2kW, three-channel class-D amplifier with switch mode power supply. Remote monitoring is provided by way of the DASnet monitoring software.
The Convert 15A enclosure is constructed of birch plywood finished with the durable Iso-Flex black paint. Safe stacking is accomplished by way of plastic feet which inter-lock with fitting points to prevent slippage. Optional rigging hardware is available and can be used to form either horizontal or vertical curved source arrays. M-10 threaded rigging points are provided for use in permanent installations.
Convert 12A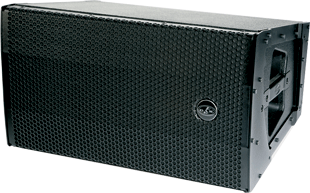 The Convert 12A is a curved source array unit for small- to medium-sized live events or permanent installation. The latest in class-D power amplification, digital signal processing and optimised DAS components have been combined with enclosures designed for rapid deployment, precise coverage and high acoustic output.
The two-way design comprises a DAS 12V4 loudspeaker, employing a 75mm (3-inch) voice coil. Two M-60N neodymium compression drivers are attached to the SERPIS 25/112 waveguide which allows them to work together acoustically.
The two-channel class-D amplifier design offers 600W from third-generation class-D technologies and a switch mode power supply. The high efficiency of the amplifier ensures cool operation so that no fans or heatsinks are needed. Signal processing is accomplished by way of a powerful 24-bit DSP providing control over critical signal parameters. Digital Finite Impulse Response filters are used in the signal processing of the Convert 12A.
The portable and rugged enclosure is manufactured using birch plywood and finished with the durable Iso-Flex black paint. The trapezoidal shape and captive rigging system allow for a 15º splay angle so that curved source arrays of up to six units can be formed-simply and safely. The Convert 12A includes a pole mount socket with variable inclination for use as a satellite unit in combination with subwoofers.
More: www.dasaudio.com