Spanish manufacturer Equipson has updated the Work Pro Arion line array, a DSP line array ecosystem that already includes the Arion 21A system and double 10-inch SL210A satellites. The system can be configured to suit a wide variety of applications, from medium to large venues where power, quality, and controlled directivity are required through to theatres and concert halls.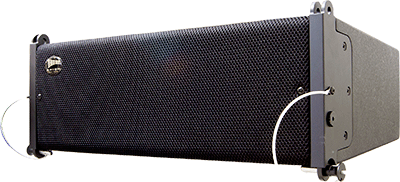 The Arion 10A and the Arion 5A, which are significant redesigns of previous Arion line array products.
Arion 10A is a single 10-inch version of the Arion 21A that incorporates Work Pro's internal DSP technology and high quality amplifiers from Danish brand Pascal. In keeping with the Arion21A, the new Arion 10A uses top-of-the-range transducers that were designed and manufactured in Europe. Alongside reliability and great sound quality, the Arion 10A is also highly cost-effective because its amplifier and DSP technology is concentrated in one box, which in turn supplies the powered audio signal to the following box. This means that only one dual channel amplifier is need for every two boxes. At the low frequency end of the spectrum, Arion 10A uses an affordable SL218A subwoofer.
The Work Pro Arion 5A is a fully redesigned compact size line array system that offers 1.6kW peak through its sub and 2.4kW peak through its tops.
Arion 5A tops are loaded with two 5-inch woofers with 1.75-inch voicecoil, a 2.2-inch ring radiator and a 15-inch sub that can be combined with four, six (one sub) and eight or 12 (two subs) top boxes. The sub used for this system is an SL115AS, which comes with a dual amp high power 2kW Pascal amplifier. When combined with Work Pro's internal networked DSP, the amplifier can supply a powered audio signal to the entire system and can be fully managed by Ethernet.
These additions to the Arion Series are aimed to extend the versatility and appeal of the range by providing high-quality yet cost-effective solutions to venues of different sizes.
More: www.workpro.es